6 New Google Ads Updates You can't Miss to Check out in 2022
11 Mar, 2022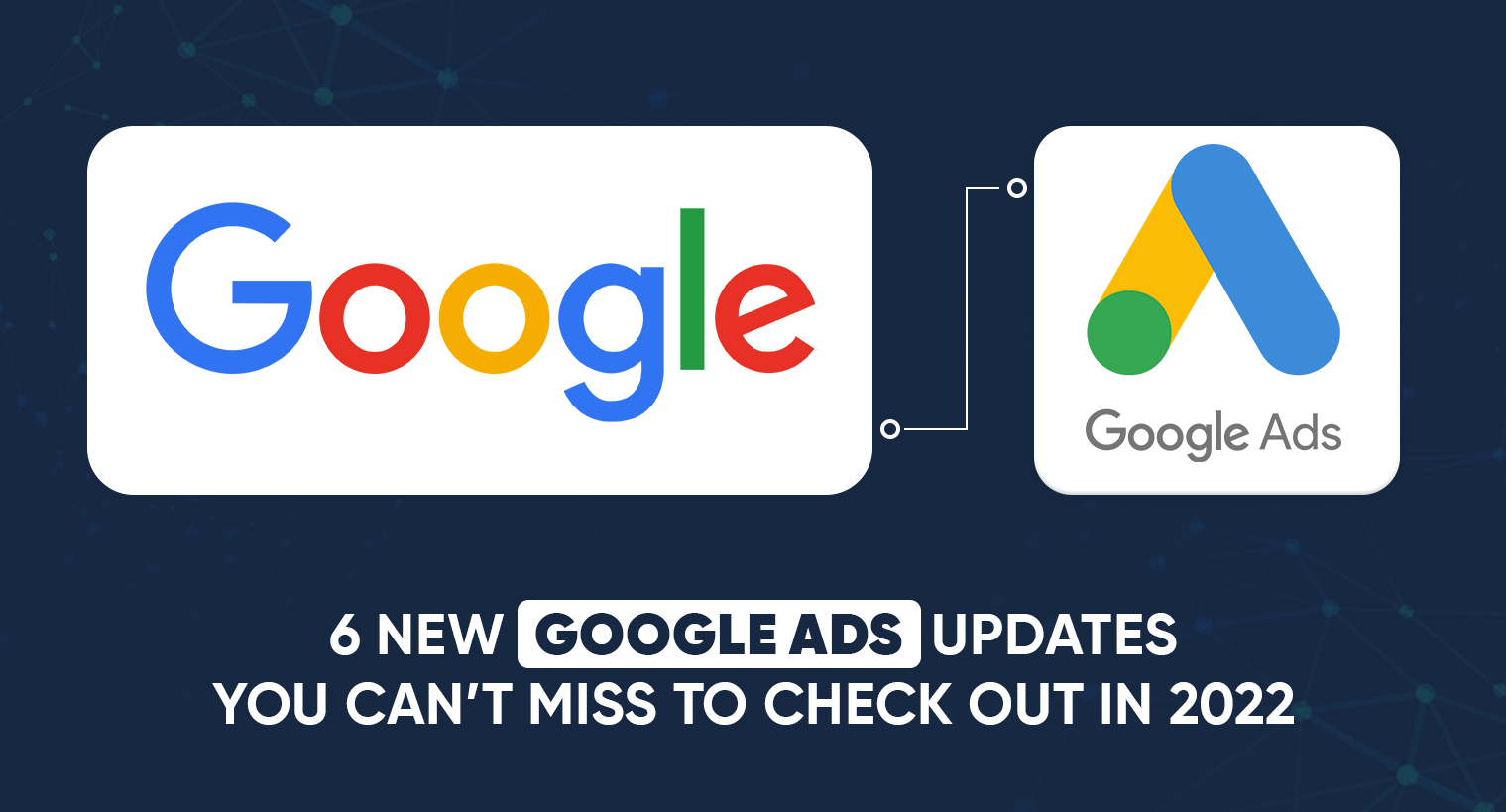 Google is about to launch and upgrade its Google Ads feature. Excited to know what exactly those are? Let's dig right in.
Google Ads updates are progressively moving to automate many parts of its mind-boggling machine. Bidding, Targeting, other small parts of the advertisement text experience are either fully or partly automated.
Ad expansions will offer more data about your business and make it really easier to draw in more engagements. Perhaps, marketers can see a 20% increase in clickthrough rate when almost four site links show with their Google ad settings.
Google is offering various features to help you publish engaging ads. It will make site links, callouts, and structured snippets easier. Are you excited? So are we!
6 New Google Ads Updates That you Must Know
Engage More Individuals with Automated Extensions
After you choose to go with automated extensions, Google Ad Manager will create new extensions on your behalf and present them with your ad if they're suitable to improve your performance.

Earlier, site links, structured snippets, and callouts weren't capable of showing your ad if you provided manually created site links, snippets, and callouts.
From mid-march onwards, these extensions will be able to present their manually-created counterparts.
For instance, if your Google Ad has only two manually-generated site links accessible, Google Ads can offer two site links simultaneously, showing your ad with four site links.
With this update, you'll have the option to see reporting for these automated extensions at a personal level on the Extensions page. After reviewing, you can remove or pause each extension. It will simplify managing the extensions that google creates on your behalf.
To see which automated extensions are visible with your Google Ad settings, search for "Automatically created" extensions in the table view of the page(extension). 
Google Merchant Center launched an Option of Short Title
Now sellers can add a short title to identify their product in Google Merchant Center.
The new [short title] attribute varies from the current features. The short title should be concise and written to show in "browsy experiences," like Discovery campaigns and Shopping advertisements on Gmail.
Full product titles usually get trimmed in the "browsy" ad settings Google has mentioned, and it implies that users may not be viewing all the relevant data from your ad. Short titles offer sellers a fast method for distinguishing their products, which could help with improving clickthrough rates.
Best practices for short titles. Google ad suggests restricting your short titles to 65 characters or less because customers usually see the initial 65 characters of a short title (contingent upon their screen size).
New Google Shopping Experience Scorecard
Google informs  merchants of a new program called the Shopping experience scorecard. In short, Google is informing these merchants that if they offer an "outstanding client experience," Google will remunerate those merchants with "a badge," "a raise in rankings," and "different advantages that will help buyers with finding your business," inside the Google Shopping tab in Google Search.
To review your performance and score:
Sign in(Google ads login) to your Merchant Center account.

From the navigation menu, click on Growth.

Click on the Shopping experience scorecard.
To measure the performance of the merchants, a few metrics is laid down by Google on which they are ranked.

Suppose you are a merchant and part of Google Merchant Center and think you can give that level of "excellent" client service. In that case, you should share these metrics with Google Ad Manager because it will help you gain better visibility in Google Shopping.
Track Down More Opportunities with Recommendations
Recommendations can assist you with polishing your performance by analyzing your account's campaign setting, performance history, latest trends, etc. Advertisers who used recommendations to boost their account level optimization score saw around a 14% increase in conversion.

To help you discover more opportunities in your Google ad settings, Google adds new recommendations and tools. Now you can use recommendations and polish your video campaigns.
Test Easily on a New Experimental Page
In today's dynamically changing business environment, it has become crucial for businesses to run rigorous and data-driven testing if they wish to grow.
So the best way  to do this is by running experiments, which can help you understand the effect of your changes and improve the ad campaign performance. 
To simplify testing in your account, Google is carrying out the Experiments page – a new feature in Google Ad Manager that can help you create, manage, and optimize all your experiments in one place.
Changes in Keyword Matching Behavior 
Let's talk about keyword search! Again one of the essential tools to understand the target audience and their queries are mapping them by keyword search. 
Here are the two advantages that keyword search does in the case of google ads –
Ads will now prefer broad match and phrase match keywords identical to a query without an exact match keyword.

If you have different match types for a keyword-relevant to a query but not exact, Google will not decide based entirely on Ad Rank but relevancy (thanks to

BERT

).
To sum up, the settings on Google ads constantly provides all its users with regular Google ads updates and helps in improving their browsing experience of all sorts. Why should your business be left behind? 
Interested in getting more social media updates? Check out our other blogs – Top 6 Facebook Updates Of 2022 You Must Know.