The Future of E-Commerce is Shoppable Ads
PUBLISH DATE: 25 October 2023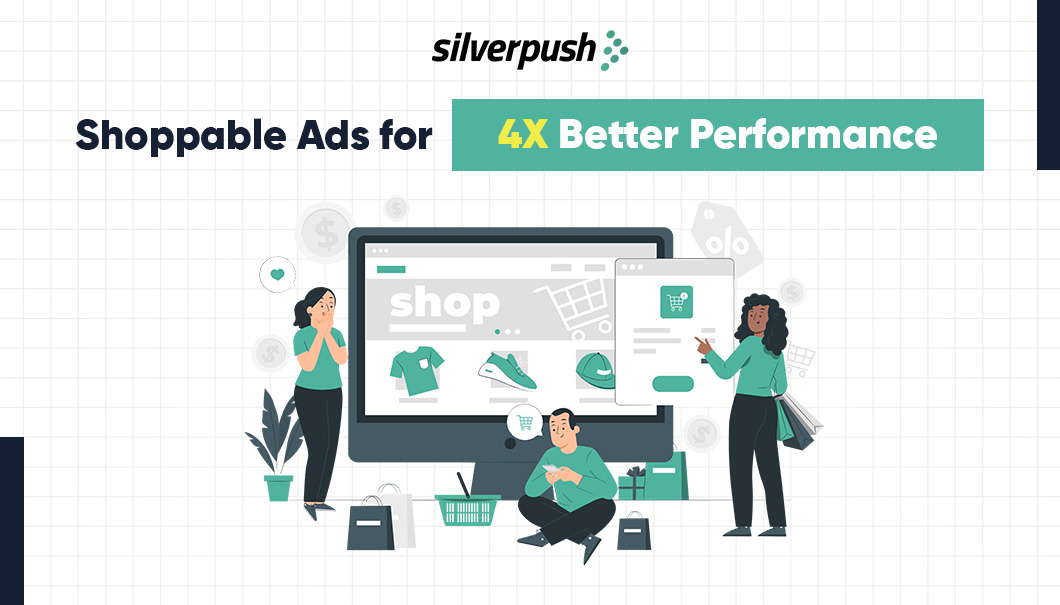 In the ever-evolving world of digital advertising, one trend has become increasingly evident – the shift from offline to online. Customers are no longer just browsing, they're actively engaging with brands and products.
It's easy to overlook the fact that the convergence of ad viewing and product purchasing on a single device is a recent development ushered in by the digital age. Today, individuals have the ability to discover, research, and buy products all within a single device.
In the past, consumers would become aware of a product through billboards, magazines, or television commercials. To make a purchase, they had to rely on the product's availability in their area and physically visit a store. Now, products can be purchased within minutes of first encountering them online, requiring only a few simple clicks.
The report by KervInteractive revealed that half of the 90 million Kerv and/or SmartCommerce users (over 40% of U.S. digital buyers) exposed to video ads with commerce or interactive capabilities engaged with video ads served from its platform within six months. Further, the results showed that the most engaging content categories included style and fashion, food and beverage, and home and garden.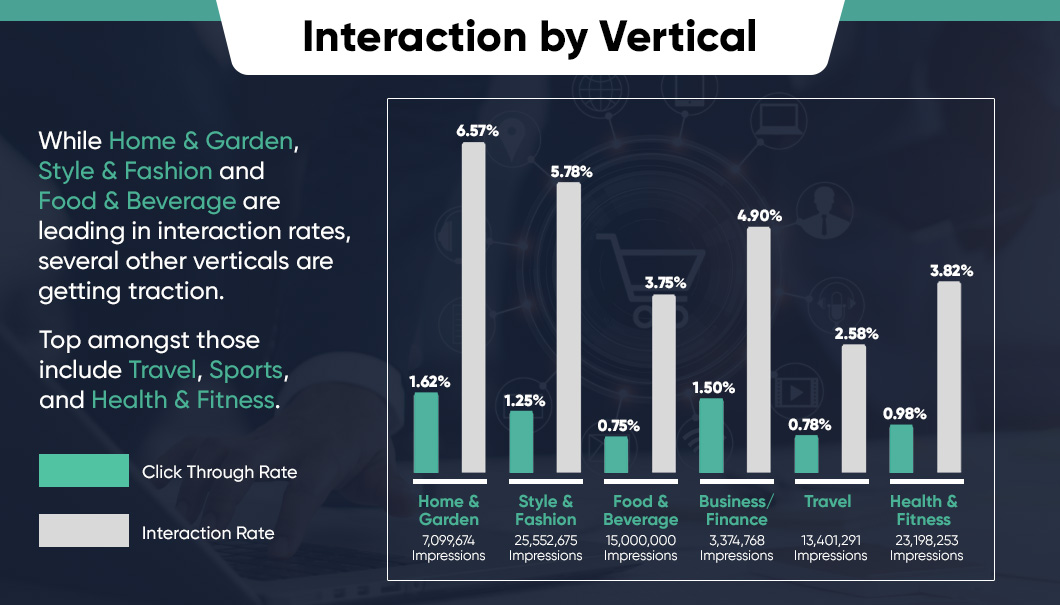 Boosting Sales with Diverse Shoppable Ad Formats
Shoppable ads have emerged as a powerful tool for marketers to tap into this trend, offering an interactive and engaging way to showcase products and services. This type of interactive ad format allows users to go from discovery to purchase in an instant, leading to greater profits for brands.
These ads are tailored to eliminate the lengthy sales journey by providing interactive content. They create a shortcut and simplify the purchasing journey, enhancing the overall user experience. While shoppable ads have been around for some time, their relevance has surged in recent times. This is because consumers are not only increasing their online shopping, but they are also actively seeking the most convenient means of buying products.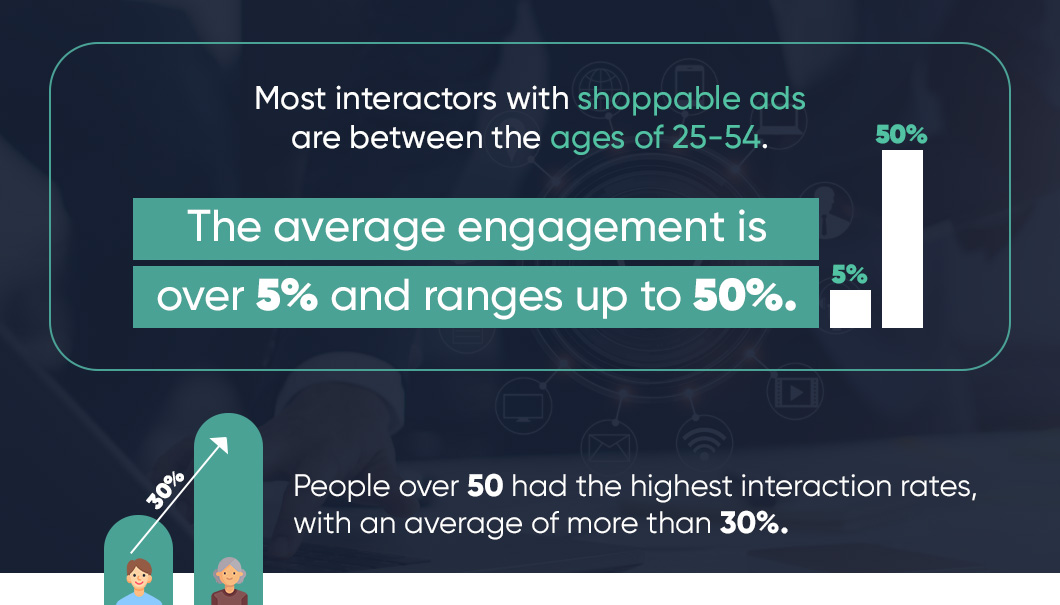 Powerful Reasons Why Shoppable Moments Create A Wow Factor For Your Brand
If you're looking to elevate your marketing strategies and deliver impactful messages, exploring shoppable ads is a crucial step. Here are five compelling reasons why:
Shorten your user's purchase journey
Today's shoppers want quick and hassle-free online shopping, and that's exactly what shoppable ads offer.
What makes shoppable ads stand out is their ability to lead shoppers directly to the brand's checkout page when they want to buy something. In simple terms, it moves customers from discovering a product to buying it in an instant. 
Enrich your audience's experience with interactive and personalized rich media creatives
Understand your target audience, their content consumption patterns, interests, etc to kickstart the process of delivering personalized ads. This personalized touch to shoppable ads is a game-changer, as it allows brands to suggest products based on the content consumers have previously shown interest in, keeping them engaged and influencing their purchase decisions.
In addition to this, the high-impact rich media creatives within shoppable ads yield superior metrics compared to traditional ads. Instead of merely conveying messages through plain text or static images, these immersive and interactive media content establish a powerful connection with your audience. What's more, shoppable ads offer consumers fresh and exciting ways to interact with your brand or product, ultimately resulting in higher conversion rates, engagement rate, click-through rates, and view rates.
Capture your audience's attention with a seamless interactive digital shopping experience
Traditional methods, such as repeatedly exposing consumers to your brand's ads before they even begin to consider a purchase, not only entail a lengthy process but also have limited success rates when it comes to conversions. In contrast, an engaging & interactive shopping experience that keeps consumers on the same platform can significantly improve the likelihood of driving purchases, surpassing the effectiveness of traditional advertising methods.
In conclusion, when executed with a well-crafted strategy that encapsulates your entire brand narrative in a single ad unit, "shoppable ads" offer a multitude of appealing advantages.
Introducing Crafters Shoppable Ads– Cutting-edge AI Solution that creates shoppable moments while enabling commerce at the speed of wow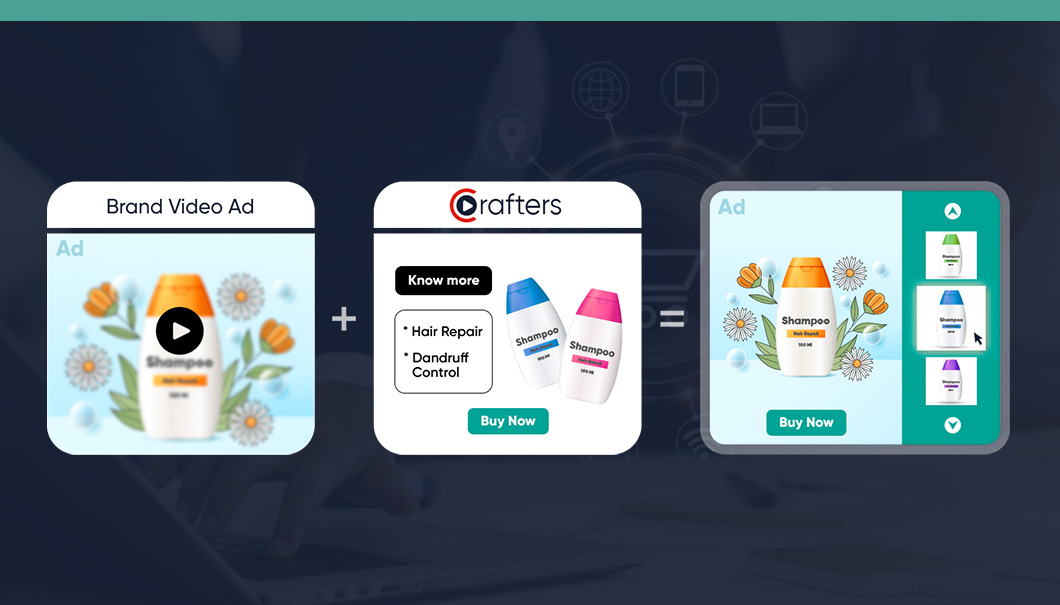 Crafters Shoppable Ads create captivating and interactive shopping moments, capturing your audience's attention and fostering meaningful connections through a seamless and engaging viewing experience.
Our innovative AI-led solution shortens your customers' sales journey and introduces innovative methods to simplify the purchasing process. By doing so, we help your business efficiently reach consumers who are ready to make a purchase.
Our Shoppable ads feature high-impact immersive creatives, enhancing your conversion rates and encouraging immediate click-to-buy actions. These ads go beyond showcasing products, utilizing interactive content and compelling narratives to effectively convey your brand's story.
Crafters is designed to optimize dynamic product ads within online video ads. What sets us apart is its ability to empower advertisers with data-led interactive elements seamlessly integrated into their existing video assets.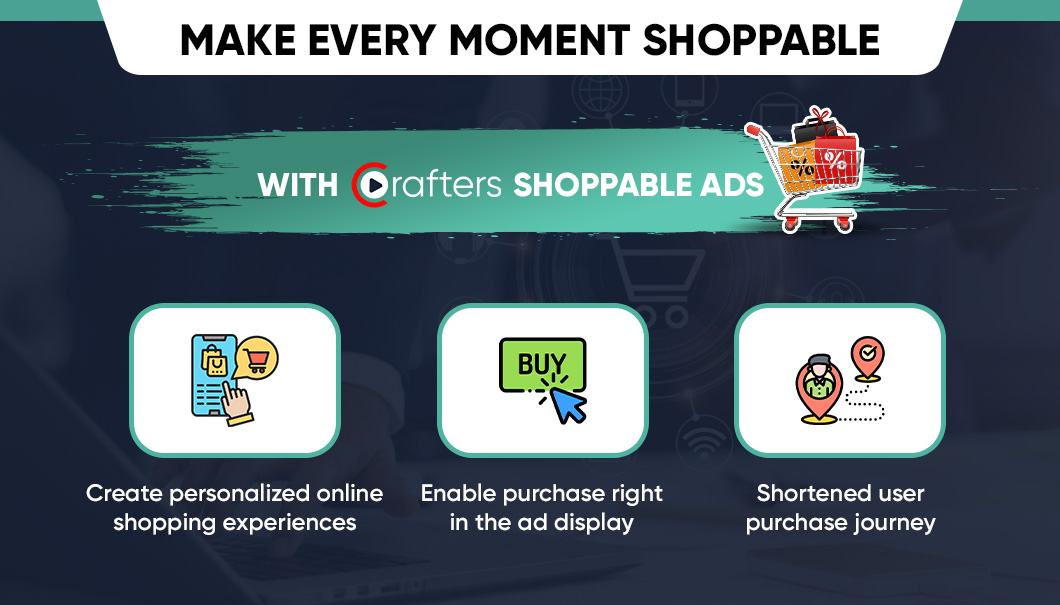 Are you ready to eliminate lengthy purchase processes with interactive content and revolutionize your business? Schedule a demo with us today to enhance your digital commerce experience. Simply complete the form to get started.
A New Era of Online Video Ads: Dynamic Video Optimization
PUBLISH DATE: 19 September 2023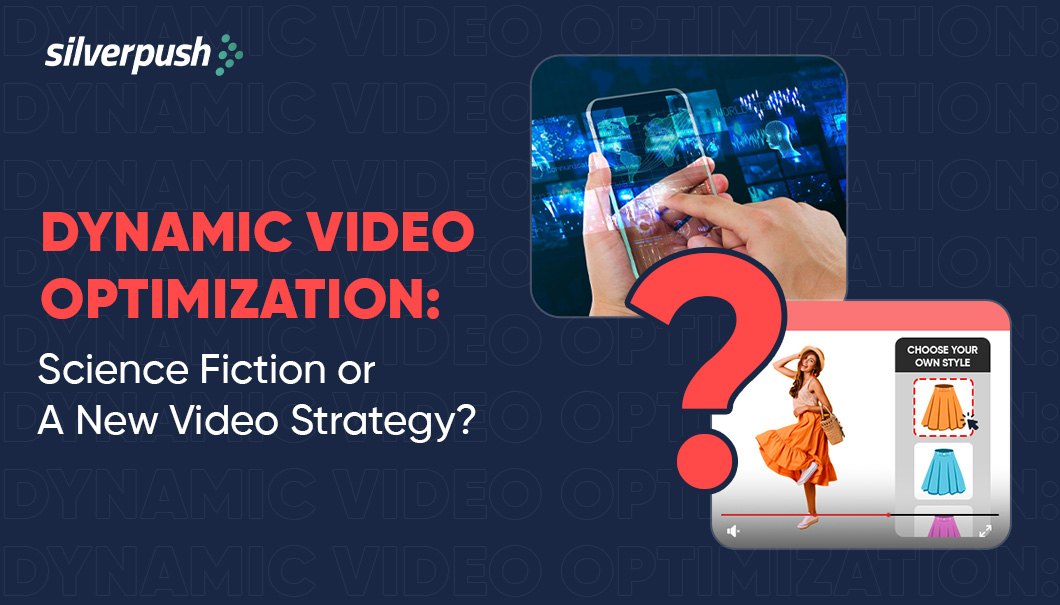 Dynamic Video Optimization may seem like a concept straight out of a sci-fi movie, but it's very much a futuristic reality. This cutting-edge technology empowers brands to seamlessly integrate text, audio, or images into their videos, creating an endless array of variations from a single video source. This innovative approach enables brands to tailor their videos to reach specific audiences, paving the way for precision-focused video marketing strategies in their media plans.
Why is this particularly crucial, especially in the current landscape? The reason lies in the explosive surge of video viewership, especially on mobile devices, on a global scale. As this arena continues to expand rapidly, brands are challenged to discover fresh and inventive methods to distinguish themselves among their intended viewers. 
Why Interactive Video Ads Are an Asset? 
The average daily time people spend consuming online videos has surged dramatically, increasing by more than fourfold since the global pandemic. This upward trajectory is further propelled by the widespread adoption of mobile devices.
Interactive video has quickly become a widely used marketing tool as brands are turning every stone for consumers' attention. According to a study by Spiel Creative, almost 90% of marketers after incorporating interactive video noted a growth in their online sales, and over 85% said that they would create more interactive videos in the future. 
Enhance Your Brand's Presence with Compelling Video Content
Brands are increasingly embracing video content enriched with customized messaging, finely tuned for specific audiences. When compared to traditional display advertising, video marketing emerges as a significantly more dynamic and interactive medium, consistently demonstrating its ability to foster heightened engagement and subtly captivate customers.
Challenge with Videos on The Open Internet
So, why are brands hesitant to leverage this technology more for their ad campaigns? Why aren't videos dynamic? One and only issue that limits the potential of a video marketing campaign is the amount of customization that can be done. Video ads today are generic and communicate the same story to all users – unlike display ads which are increasingly becoming more dynamic with widely available solutions. 
Adding to the above, video production also presents its own challenges which include: lengthy planning periods, high production costs and long lead-up times. Add customization to it, and it becomes even more complex. 
A Next-Gen AI Solution: Crafters
Crafters is an innovative AI tool to create dynamic video ads that allow brands to dynamically embed interactive elements within their videos to generate unlimited video variations – cutting down on efforts, costs, time, and planning. Text is integrated using the brand's native font type.
A brand develops a single video to showcase its latest offer. With Crafters, a different message can be shown to the user depending on multiple factors. A popular streaming platform used Crafters to increase brand awareness for their new show, in which viewers could pick a character based on the video for which that specific character is played. 
Here's a photo from the original video: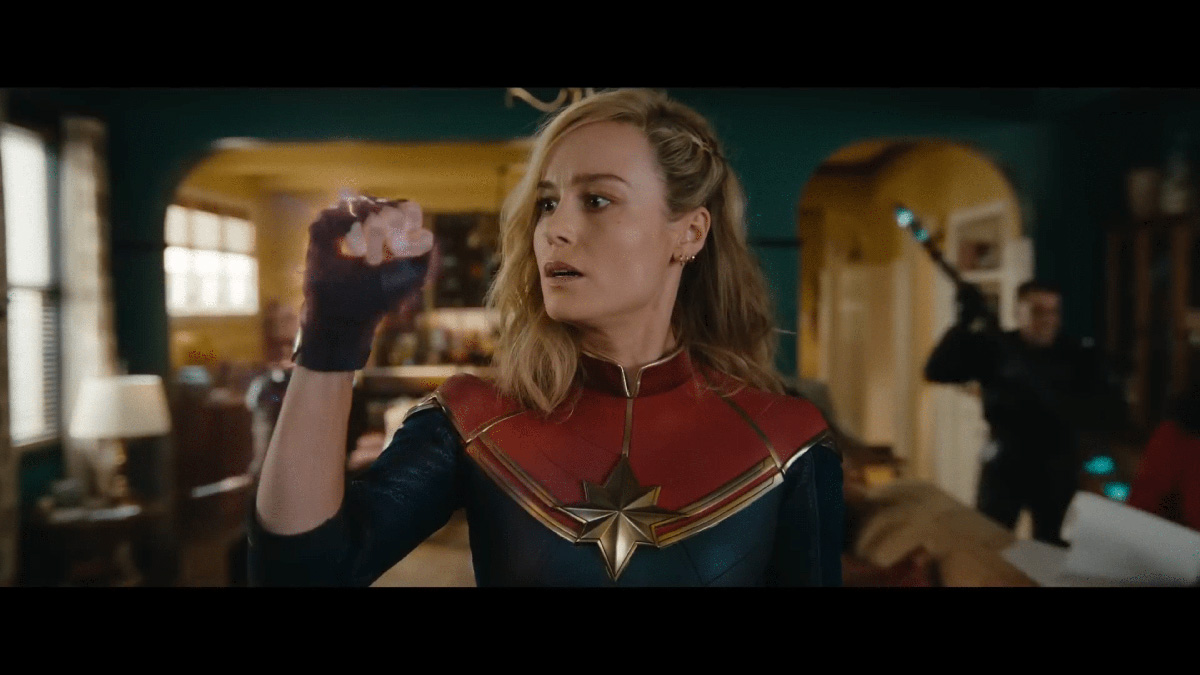 Here is an image of videos generated by Crafters that speak to a viewer's preferences: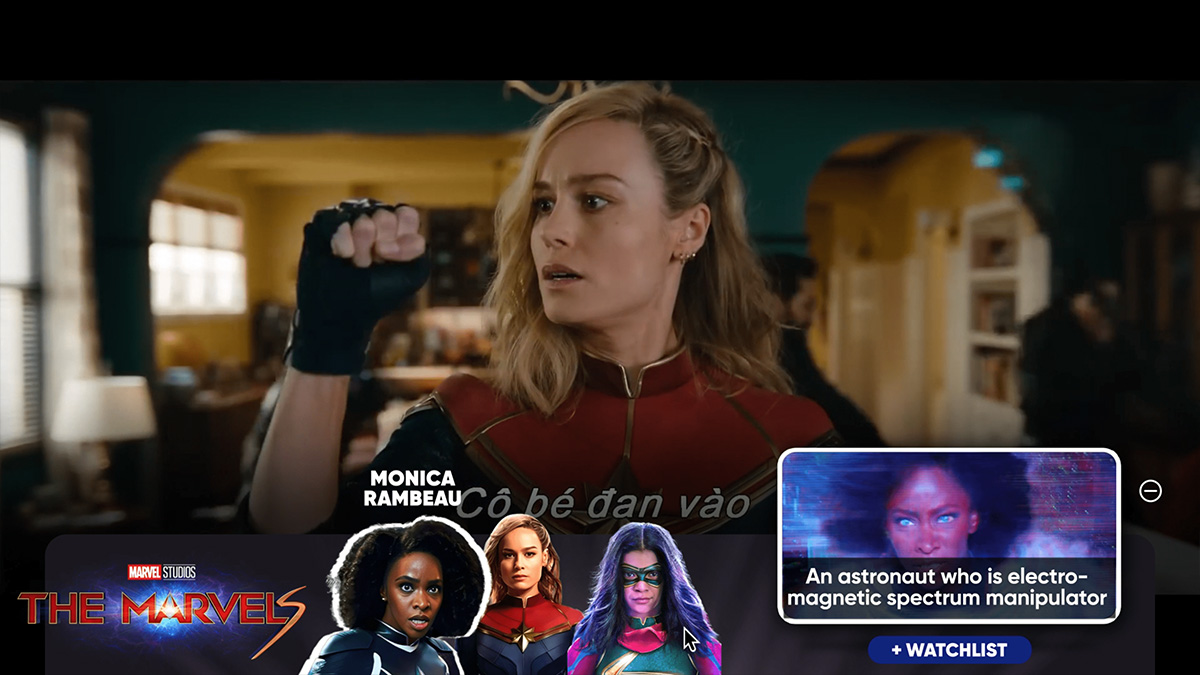 Our innovative AI technology allowed the brand to customize a variety of messages around the themes of characters. The campaign allowed the brand to transform its simple video ad for a new TV series into a powerful and targeted message delivered to the intended audience.
Discover How Advertisers can Ace Their Video Ads With Creative Automation
PUBLISH DATE: 27 July 2023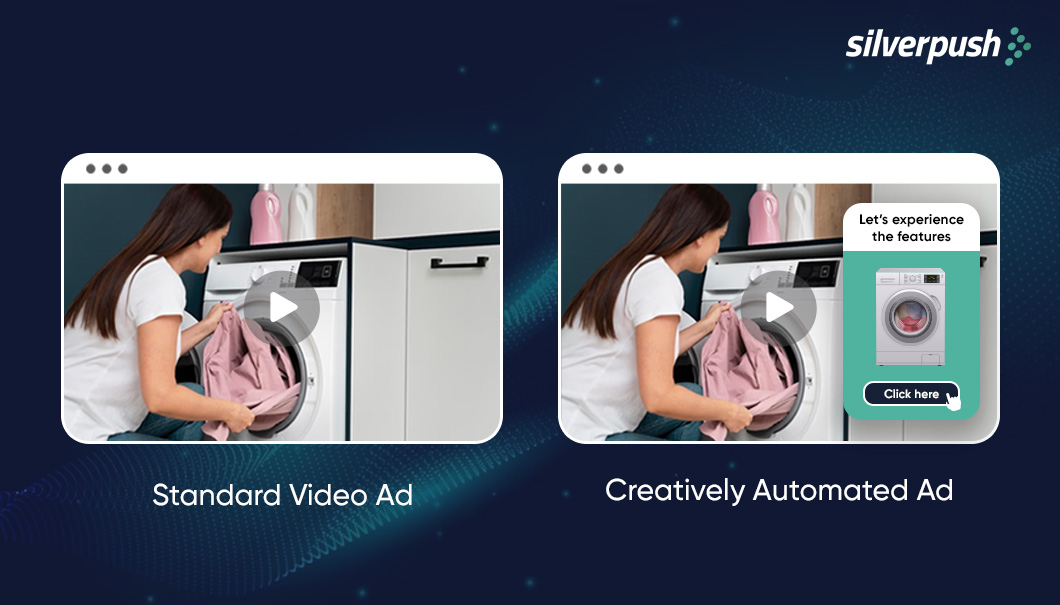 Step into the ever-evolving world of online advertising, where video ads have seamlessly integrated themselves into our digital landscape. The target audience finds no respite, constantly exposed to these ads regardless of their location or activity. Behind each of these ads lies a tremendous effort, with designers painstakingly pouring hours into perfecting the visuals, discarding countless alternatives along the way. Marketers, too, have their part, carefully approving the final ads, hoping for that sought-after engagement.
But here's the catch—despite all this effort, advertisers are facing an uphill battle in driving engagement. The human brain only retains a meager 3% of most ads it encounters. And that's not all.
Our audience is bombarded relentlessly with the same repetitive ads, leading to a phenomenon known as "ad fatigue." In a world where media moves in real-time, brands struggle to keep pace with consumer expectations, forcing them to churn out content in a constant battle for attention. A challenging task, indeed!
So how can advertisers secure a place in that 3%? Well, the answer is simple, focus on interactive video creatives.
How does Creative Play a Role in Driving Engagement?
Ad creatives play a crucial role in ad campaigns. The audience engages with what they see. Before reading the text they analyze how your ad is appearing and if it pleases their eyes it drives them towards the engagement.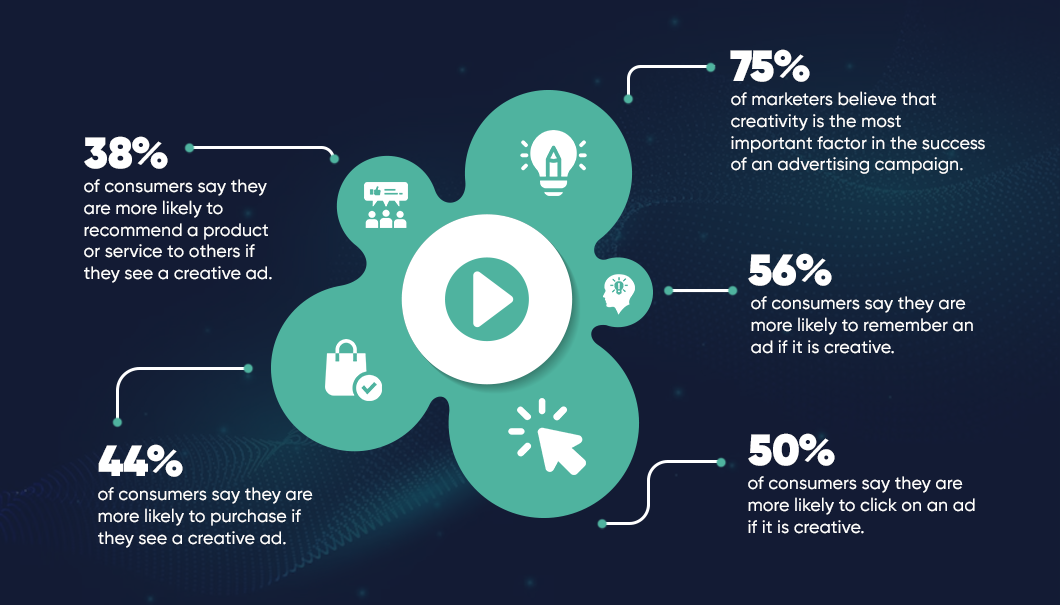 The above statistics have already proven the point that if your ad is capable of captivating audience attention that it can surely drive engagement.
The conventional methods of creative production are no longer viable due to generic ad experiences and inconsistent designs. Brands now seek a more efficient alternative and creative automation has been a powerful resource.
Let's dive in and understand creative automation is playing a crucial role! but first, let's understand the basics.
What is Creative Automation?
In simple language, creative automation is the use of software to automate the creation and production of creative content. This can include things like design, copywriting, and video editing.
65% of marketers who have adopted creative automation have seen an increase in the efficiency of their creative production process.
How Creative Automation can help in Keeping the Audience Engaged?

Unlocking your audience's mind lies in the power of personalization. If your ad fails to resonate, it's bound to be skipped. That's where creative automation steps in, empowering advertisers to craft tailored ad creatives that deeply connect with their target audience.
However, effective advertising demands more than just precise targeting. Advertisers must explore additional strategies, and one such solution is optimization. Dynamic video optimization offers the perfect avenue to transform standard video creatives into interactive experiences.
Given the fleeting attention span of audiences, lasting less than 10 seconds, dynamic interactive videos present a game-changing opportunity. By offering engaging elements for your audience to interact with, you can effortlessly extend their attention span to a remarkable 30 seconds or more. Captivate your audience with interactive content, and they'll linger, enthralled by what you have to offer.
"According to studies, brands can increase their consumer engagement up to 3X with just 15-second interactive ads."
Engage your Audience with Crafters
Silverpush introduces Crafters, an innovative technology that harnesses real-time data and user insights to revolutionize ad campaigns. Crafters empower advertisers to deliver personalized, highly relevant ad experiences to their audience through precise granular targeting.
With Crafters' dynamic video optimization solution, advertisers gain full control over every aspect of their ad and strategy. Its endless customization options enable superior video personalization, allowing for seamless re-editing as needed. Crafters even suggest dynamic elements tailored to specific brand requirements, ensuring a truly engaging and impactful advertising experience.
Still, Thinking Why You Must Opt for Creative automation?
Here are some of the benefits of creative automation that you leverage:
1. Increased efficiency: Creative automation can help advertisers save time and money by automating tasks that would otherwise be done manually. This can free up time for marketers to focus on more strategic tasks.
2. Improved quality: Create more high-quality content by ensuring that all creative assets are consistent with the brand's style guide and that they meet the needs of the target audience.
3. Increased personalization: Personalize content for each customer or lead. This can help marketers build stronger relationships with their customers and leads.
4. Improved ROI: When content is relevant and engaging to the target audience it automatically drives better return on investment.
Conclusion
The advertising landscape is changing rapidly, what yields results today might not work tomorrow. This change is keeping advertisers on their toes.
The only constant conclusion we can drive from the present scenario is  that "personalization and relevancy will be driving results in the future" so advertisers must leverage the power of creative automation to stand out in the crowd.