How to Use Contextual Targeting in CTV, OTT, and Online Video?
| 08 Jun, 2022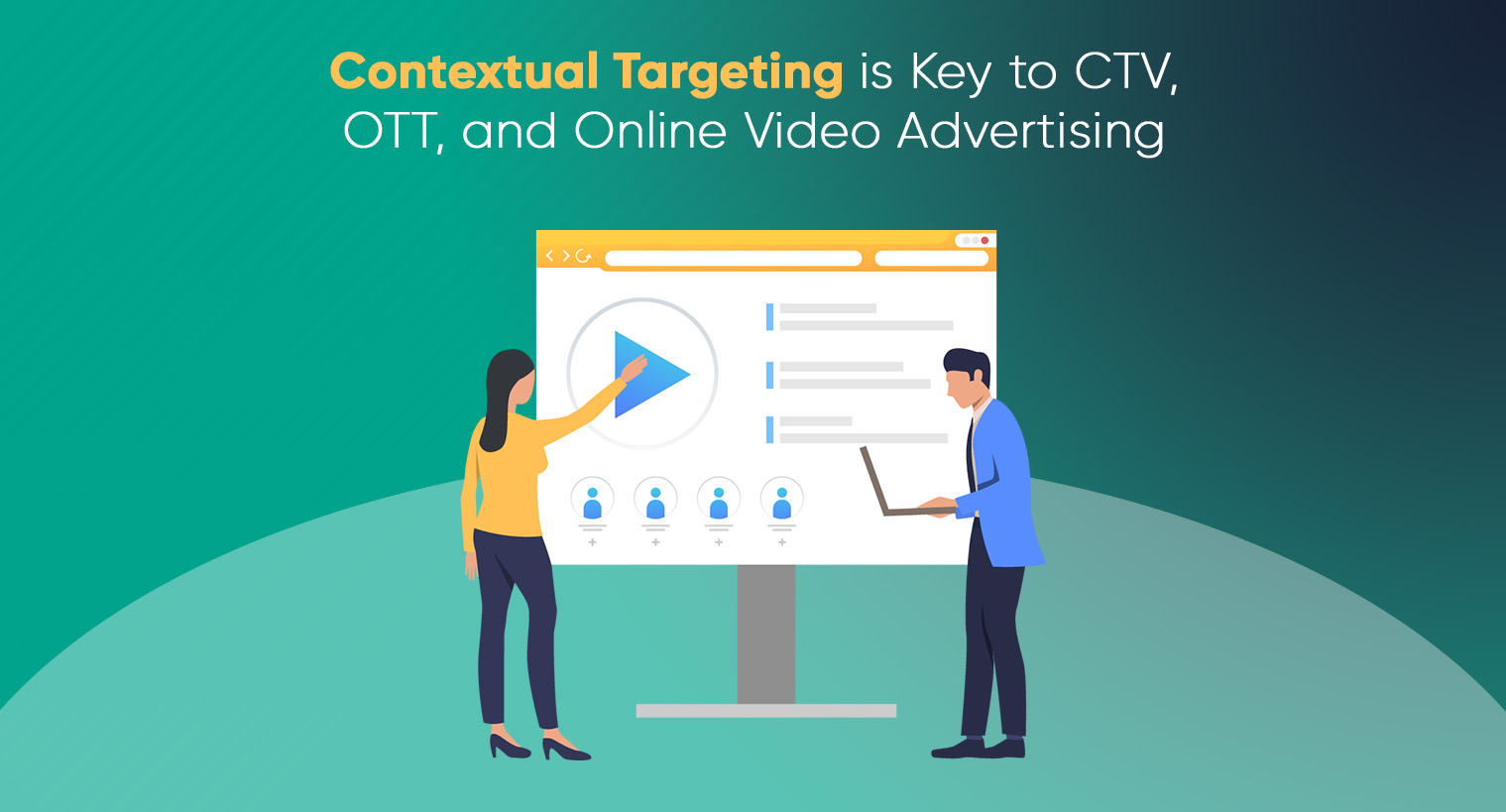 According to an eMarketer report, incremental spending on programmatic connected TV (CTV), and video ads will rise to $2.37 billion in 2021. 
This was also confirmed by the IAB's 2021 Marketplace Outlook Survey Results, which revealed a 21% shift in ad expenditures from linear TV to digital video (CTV).
As we can observe a shift in marketers' preferences for where to invest their ad expenditures, we can also see a shift in the platforms they use to reach their customers in the right place and at the right time in a brand-safe environment.
The answer to this is contextual advertising. It is capable of comprehending the topic and sentiment of a piece of content. Secondly, it is becoming an even more robust platform to use and comprehend, allowing buyers to reach the relevant audiences through CTV, OTT, and online video.
Rising Usage of CTV and OTT
Without a doubt, Covid-19 is one of the major reasons for an increase in the consumption of CTV and OTT. With almost all the people staying at home, connecting virtually or streaming had to happen.  This has also left the advertisers with no option but to shift their strategy for connecting with their audiences in these digital realms. 
However, the main challenge for publishers and advertisers, remains, to target their audience during their CTV OTT, or an online video experience. 
Contextual advertising makes this possible! 
CTV and OTT might be considered similar, but they are a lot different from each other than we think. 
CTV, which stands for Connected TV, refers to streaming video on televisions, mobile gaming devices, and applications. PlayStation, Sling TV, Roku are all examples of CTV. 
And, over-the-top (OTT) services bypass TV providers and stream on-demand from any device through an app. This can be combined with CTV and is similar to viewing Netflix on your smart TV.
Advertising in CTV and OTT is different and complex from linear TV and this is where the importance of contextual advertising is understood.
Until recently, CTV and OTT advertising relied on IP addresses to provide relevant advertisements. This is similar to how cookies are used, where computers track user activity and serve ads based on what the user clicks on. In the case of CTV and OTT what the audience is watching. 
Unlike cookies, contextual advertising protects your audience's privacy while reaching them through more granular and effective ad placements in CTV and OTT spaces and by recognizing relevant video content that connects with your target demographic.
This strategy allows advertisers to reach more of their target clients while also making their ad purchases more efficient.
The data also contributes to better transparency and performance metrics in the streaming video industry, allowing advertisers to understand where their advertisements are played.
How Does Contextual Targeting Work in CTV, OTT, and Online Video?
With the TV landscape changing, contextual advertising is the up-and-coming strategy offering a data-backed solution to the conventional IP address targeting. 
Contextual targeting differs from behavioral targeting because that kind of targeting relies on data indicating a user's interests, behavior, and demographics. Contextual analysis on the other hand depends on the content itself to align ad campaigns with relevant environments. 
Silverpush, an AI contextual advertising company does contextual targeting in CTV, OTT, and online video through its human augmented platforms Mirrors and Parallels.
Mirrors
Mirrors by Silverpush help in context-relevant video level ad targeting using human-enhanced AI technology. It is the world's first in-video context detection solution, that identifies faces, logos, objects, places, actions, on-screen text, and audio for a nuanced targeting at the video level.
During the process, content-aligned ad placement, brand safety, and tailored brand suitability are all guaranteed, along with reaching the largest possible audience.
Parallels
Parallels real-time TV Ad Sync helps brands recapture viewers' attention with real-time syncing of television ads with digital ads.
It connects with the audience contextually and in real-time by automatically triggering sports ads based on live moments, running contextual creatives, and syncing digital ad placement during TV commercials.
Conclusion
Contextual advertising is the solution for advertisers searching for a targeted and data-backed plan to engage with their target audience.
This strategy does not depend on the IP address and maintains the user privacy by putting ads depending on video content. With this technique, marketers can more precisely contact their target audience where they are by watching video content.