10 Reasons You Need a Digital Marketing Strategy
| 22 Apr, 2022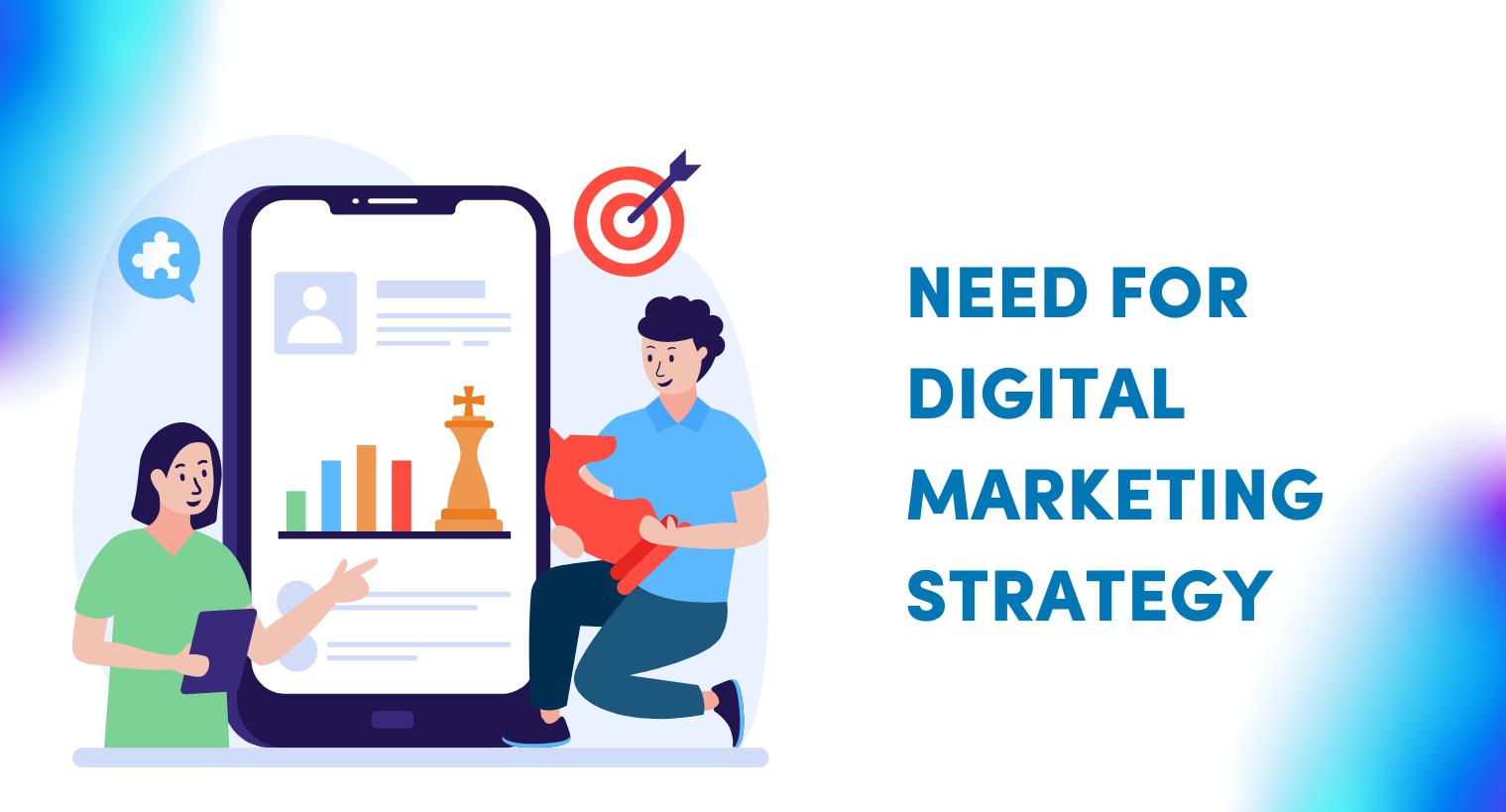 Digital or online marketing strategy plays a vital role in today's world. In earlier times, firms did marketing in only one form: the traditional way of marketing. It included print ads in newspapers or pamphlets, publishing ads on television, or printing banners on billboards. These marketing techniques worked only for a specific point in time. And then wholly stopped, which declined the sales of the company. That is when digital marketing stepped into the picture. 
The new types of digital marketing strategies that involved various tools helped all the businesses increase traffic and thereby the company sales. Modern brands have already adopted this strategy and improved their customer base in the relevant field. 
Companies will also have to ensure that they do not randomly choose any strategy or make it less critical. It is necessary to keep a specific plan that will prove to be fruitful for the company and its customers.
Why is a Digital Marketing Strategy Required?
Below we have mentioned a few reasons why you need a digital marketing strategy for your business. 
 1. Advanced Marketing Tactics that Coordinate with Traditional Marketing
 Despite the fact that we say that traditional marketing can't be helpful after a point of time, the digital marketing strategy can be effective in numerous alternate ways. Traditional marketing can go well with digital marketing whenever used carefully. Few organizations like to work in both fields as they think that it is more beneficial and productive. Traditional marketing like printing banners or publishing TV ads can go along with online marketing strategy like SEO or social media posts.
Both methods can be effective if used in the best way.
Also Read: Top 10 Skills Digital Marketers Should Have
 2. Competitors are Working Hard and You Should Too
 The Coronavirus situation has worsened the circumstances. Everybody needs to work 10 times harder to remain in the field. Digital marketers need to constantly continue to improve or update the content. They try to stay aware of the changes that occur all around the globe. As the lifestyle of individuals changes, so do their tastes and likes, therefore the companies need to work accordingly.
 3. Businesses can Remarkably Increase Reach
 The growth of traditional marketing is only to a specific extent. Hence it will not circulate the content to a vast audience. On the other hand, the target audience on digital platforms is comparatively larger due to publishing posts and articles on various social media like Facebook, Twitter, Instagram, or YouTube. With all this personalized blog content and relevant social media platforms, the company will be able to get the customers who may have missed the first ad that the company may have posted before. Use of digital marketing for business purposes helps a business in drawing huge consumer engagement, which in turn boosts sales. 
 4. Digital Marketing can Boost a Brand's Relationship with the Customers
 Online marketing strategy helps the brand improve customer relationships through various messages and review mediums. The users can provide feedback about the product and review its services. It can create a brand's goodwill. Also, it builds a healthy bond with all the customers.
 5. One can Answer to Trends in Real-time 
 A good digital marketing strategy helps marketers to respond to all the trends and changes that may take place. For example, firms can develop posts and events related to it in the new year's. Many companies or online shopping sites give discounts and offers on this day. 
 6. Become Part of the Company
 The next thing in the list of reasons you need a digital marketing strategy is that one can be a part of the conversations in the company. Businesses can benefit from social media through constant engagement and posting valuable content. It will help the firms develop a strong relationship with the existing customers and new customers. 
 7. Provide Rich Experience
 A purpose of digital marketing techniques is also to provide customers with rich experience through video advertising and other interactive means. Product recommendation is also an effective way to sell products to your current and new customers. It helps the companies to take the customers to the website. 
 8. Digital Campaigns are Easy to Track and Monitor
 Marketers can effectively track the progress of their digital marketing campaigns. Various software and tools are available that are easy to use. Do not forget monitoring is pretty uncomplicated and straightforward. 
 9. Cost-Effective 
 All the digital marketing techniques are quite affordable and cost-effective, and both paid and earned media channels do not need a lot of expenditure.
 10. Modern Consumers are Going Online 
 The last reason that justifies the need for digital marketing is that all the customers are now going digital. Everyone loves to do online shopping or hire services on online sites. Thus, digital marketing will always be a success for the marketers and the consumers. 
 The above-mentioned reasons prove that digital marketing strategy is essential for every business, big or small. Check out our other blogs to stay updated with the latest digital marketing trends.