79% of UK Consumers Prefer Viewing Contextually Relevant Ads
| 12 Oct, 2022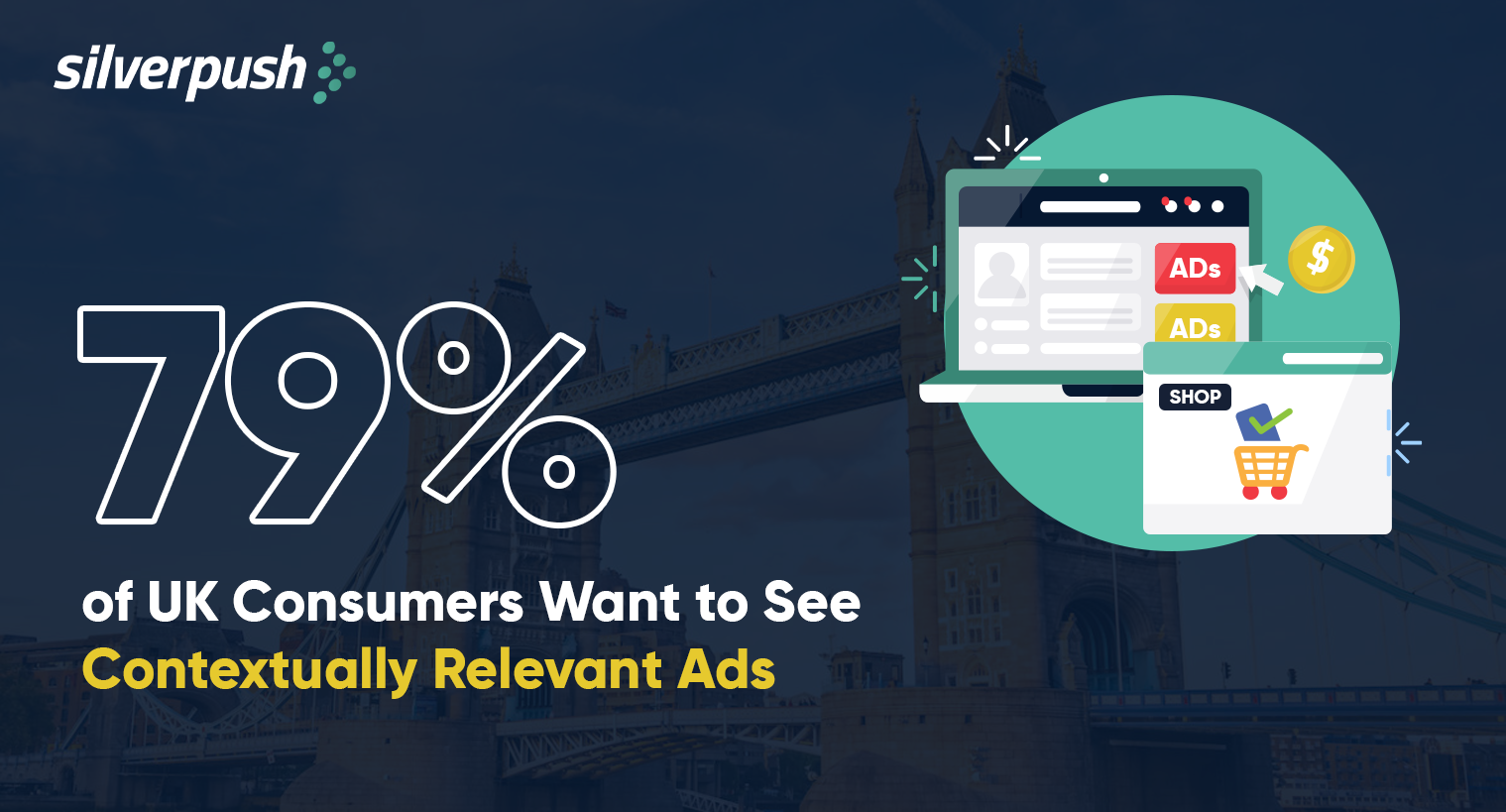 While contextual advertising may be a relatively recent term, the approach is nothing new. As long as there's been advertising, some form of contextual ad placement has always existed. 
Tracking cookies and data profiling have been the preferred method for many advertisers in the UK for the past several years. 
However, these methods target a consumer based on who they are or what they have done. This can lead to irrelevant ad placement and ad wastage. Contextual advertising, on the other hand, targets the site or page and reaches the people only when they are reading or viewing that content.
Most importantly, privacy policies like the EU's GDPR (Global Data Protection Regulation) and CCPA are also in full swing. These significant pieces of legislation have come into action to make tracking internet users via third-party cookies more difficult and eventually bring an end to audience-based targeting.
Brands are more than willing to give up tracking users' behavior and focus more on the placement of ads in the digital environment and content they are viewing.
According to data, around 81% of UK consumers prefer viewing online ads that reflect the content they are viewing. And, 72% of consumers find contextual relevance important.
Must Know Facts about the UK Advertising Market
1. Purchasing Power of UK Consumers
The United Kingdom is a country with a high GDP per capita (about $40,000), which allows companies to sell goods and services with large margins. This portrays a higher purchasing power of the people there and an increased chance of getting clicks getting converted into conversions.
2. Video Advertising in the UK
Almost £5.5 billion is spent in the UK on video advertising, making this platform a golden opportunity for brands to display their ads. 
3. Usage of YouTube in the UK
Advertising on YouTube in the UK has the potential to drive massive audiences. The UK is among the top 3rd country in the world that receives maximum views and subscribers through YouTube alone.
Not forgetting to mention the status of YouTube premium in the UK, 97% of Britishers access YouTube and only 1% of them have subscribed to YT Premium. This makes it clear that most of the UK audiences are still watching ads on YouTube. 
This opens up a whole world of opportunities for brands who prefer to place their ads on YT videos and reach the audiences when they are most likely to engage.
More than 75% of individuals of every income bracket watch YouTube, with the likelihood of watching increasing with the pay grade.
Whether marketers want to advertise essential items or luxury products, YT proves to be a wonderful platform for it. There are almost no people in the UK who do not use YouTube at least monthly. 
According to a survey conducted in the third quarter of 2020, 46 percent of respondents went on YouTube on a daily basis.
How Does Advertising Work on YouTube?
Users can watch an ad on YouTube before/during the video, in the search results, in the bottom line of the video, or when it appears as a pop-up. 
YouTube provides settings like demographics, preferences, the topic of the ad, related keywords, or certain pages for placement of ads by the brands.
The targeting strategy YouTube follows includes audience targeting, category, keyword, etc. But, the problem with all these methods is that it considers the content but not the context while inserting ads in videos.
The 3 Main YT targeting Strategies are:
Audience Targeting

– 
Affinity/Audience Targeting raises brand awareness and drives consideration with your video ads by reaching people who already have a strong interest in relevant topics. 
But, through this targeting method, ads are deployed based on past searches and keyword mapping which is the main cause of random ad placement. 
It also relies on user data for placing ads, which is a huge concern after the ban on 3rd party cookies. 
2. Category-Based Targeting- 
Brands can reach a broad range of videos, channels, and websites related to the selected topics with category targeting. 
But, each of these categories contains many targetable subcategories that cannot be excluded as per need.
3. Keyword Targeting
Here, depending on the video ad format, brands can display ads based on words or phrases (keywords) related to a YouTube video, YouTube channel, or type of website that their audience is interested in.
Statistics Related to Contextual Advertising on YouTube in the UK
1. In the UK, 32% of marketers use contextual marketing, while 36% use demographic targeting.
2. 56% of U.K. consumers said that how a company uses personal data has a direct impact on purchasing decisions, according to Forrester. 
3. The majority of UK consumers (81%) prefer online ads to match the content they are viewing. Additionally, 72% of consumers say that contextual relevance is important.
4. Ads are more likely to be remembered if they appear next to content that is relevant according to nearly three-quarters (70%) of UK consumers.
5. The consumer perception of an online ad, and the brand associated, are impacted by its surrounding content, with seven in every ten British consumers (70%) agreeing.
6. If brands serve contextually relevant ads then roughly two-thirds (65%) of British consumers will have a more favorable opinion of those brands.
Spreading Contextual Relevance on YouTube with Mirrors in the UK
Mirrors by Silverpush is an AI-powered contextual advertising platform that enhances YouTube ads with the world's first in-video context detection technology.
YouTube's advertisement strategies have failed to pay off for advertisers because of neglecting the context of the video. This has resulted in – Poor ad experience, Significant ad waste, and Increasing costs.
Reaching people during moments of intention can be incredibly powerful. Mirrors advanced contextual advertising capabilities help brands deliver ads that are relevant to what people care about at that very moment and widen their audience reach. 
Features of Mirrors for YouTube:-
Hyper contextual targeting is the next generation of YT advertising. Mirrors use AI/ML for in-video context detection (faces, logos, places, objects, etc.) for precise targeting.

Ads are served only after multiple pre-defined visual/audio triggers are uncovered.

Ensures only content-aligned, high-performing, and brand-suitable videos pass-through for final ad placement.