How Contextual Advertising is Driving Sales in the Automotive Industry
| 11 Apr, 2023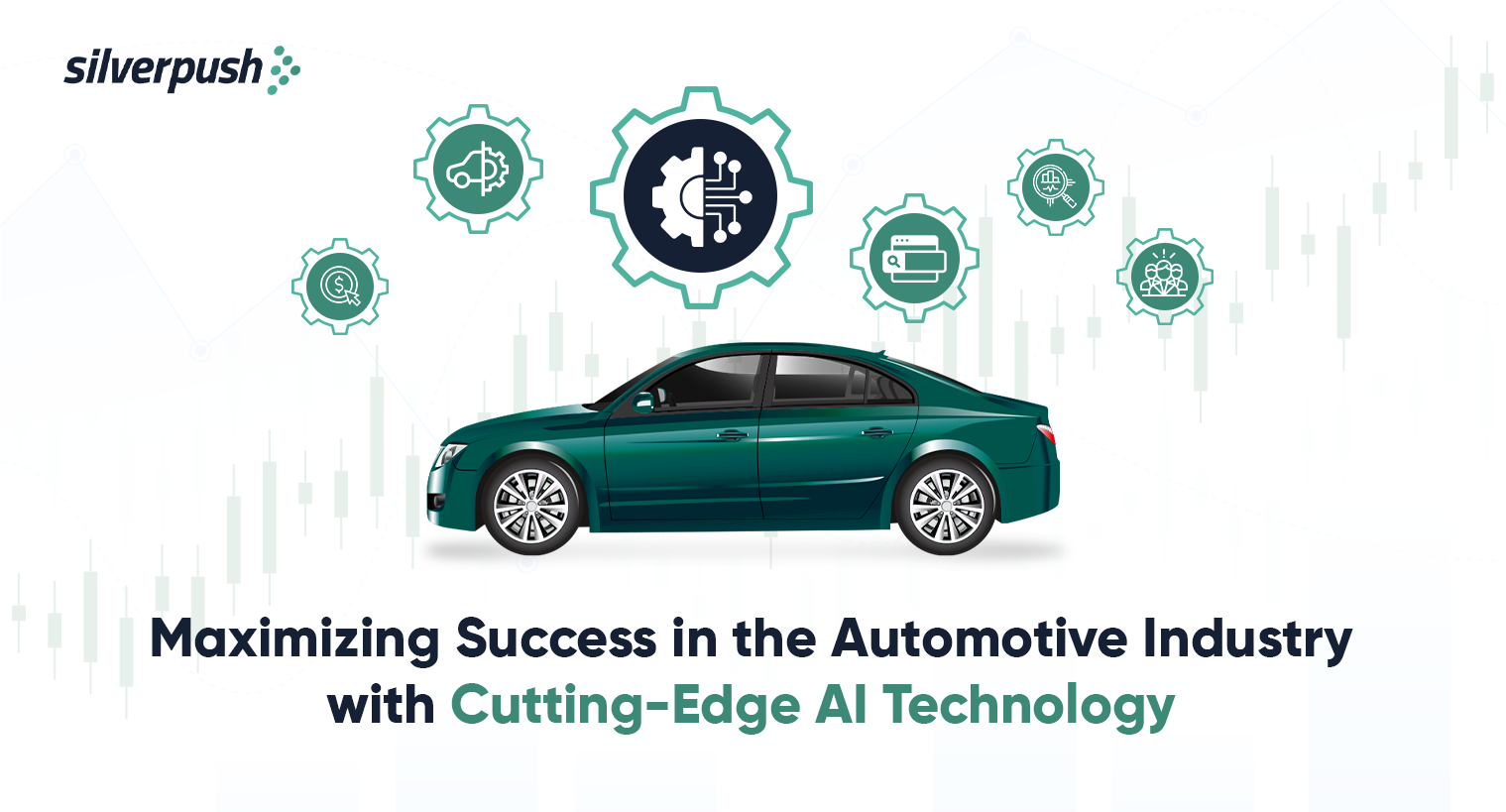 Challenging. It is the correct word to describe how brands consider advertising in the automotive sector. 
This is mostly due to the long purchasing cycle by consumers involving a large chunk of money coming out of their pockets. 
Despite the challenges, automotive brands cannot afford to miss out on the immense consumer spending in this industry. In fact, the automotive industry is one of the largest spenders on advertising worldwide. According to a report by Statista, in 2020, the automotive industry in the United States alone spent a whopping 12.42 billion U.S. dollars on digital advertising.
Contextual advertising can be a highly effective strategy for automotive brands to reach their targeted audience in the right place, at the right time, and with the right message. This approach allows advertisers to target potential customers based on their interests, online behaviors, and purchase intent, without using their personal data.
What's Unique About the Automotive Advertising Industry?
Before delving into automotive advertising strategies, it's crucial to understand the unique nature of this industry. 
Vehicles are a significant financial investment, and consumers often spend a considerable amount of time in the consideration phase. In fact, car buyers spend an average of almost 14 hours online during their research and visit around 4.2 websites before making a purchase decision.
As the buying journey almost always starts online, reaching potential customers with a programmatic campaign is essential long before they step foot in a car dealership. 
Brands who want to reach their target audience need to first understand them. The target audience can vary depending on the type of vehicle being advertised. For instance, ads for luxury cars are targeted toward individuals with higher incomes, while family-friendly car ads are often aimed at individuals with lower to middle incomes who have families and need practical transportation options.
Also, the customer journey is an entirely complex process where customers rely on different platforms to get information about the car they are looking for. 
For instance, a person interested in buying a car may watch advertisements for cars on Connected TV (CTV) using their mobile or desktop devices. To learn more about a specific car, they may browse online through OpenWeb to gather information about the car's engine, features, and other details. 
Additionally, they may ask for recommendations or advice from their friends on social media platforms like Meta to gain insights from other people's experiences. By using multiple devices and platforms, the person can make a more informed decision when choosing a car that suits their needs and preferences.
This is where advertisers can leverage the situation to reach their target audiences at the right time and place when those audiences are most likely to be receptive to their ads and engage with them. 
Contextual advertising is a powerful tool in the automotive industry, as it enables brands to understand the context of a webpage and tailor their advertising message accordingly. This can capture the customer's attention at the right moment and potentially influence their purchasing decision. By leveraging contextual data and creating relevant and engaging ads, brands can make an impact and connect with potential customers in a competitive and challenging industry.
Maximizing Advertising Relevance with Mirrors' Hyper Contextual Advertising
Silverpush's flagship product – Mirrors is an AI-powered hyper-contextual technology that watches (frame-by-frame) and listens (word-by-word), allowing you to target audiences with both precision and scale-ultimately driving better brand outcomes.
It ensures that your messaging reaches your users, during key decision-making moments which further amplifies the message and taps into users' current state of mind. Thus, driving higher performance and efficiency for some of the largest auto brands in the world.
One of our major auto brands benefited greatly from our next-gen hyper-granular visual context targeting powered by AI and computer vision to leverage what auto consumers are watching on YouTube and drive trust and personal connection with a captive audience.
Plan an Omnichannel Marketing Strategy with Mirrors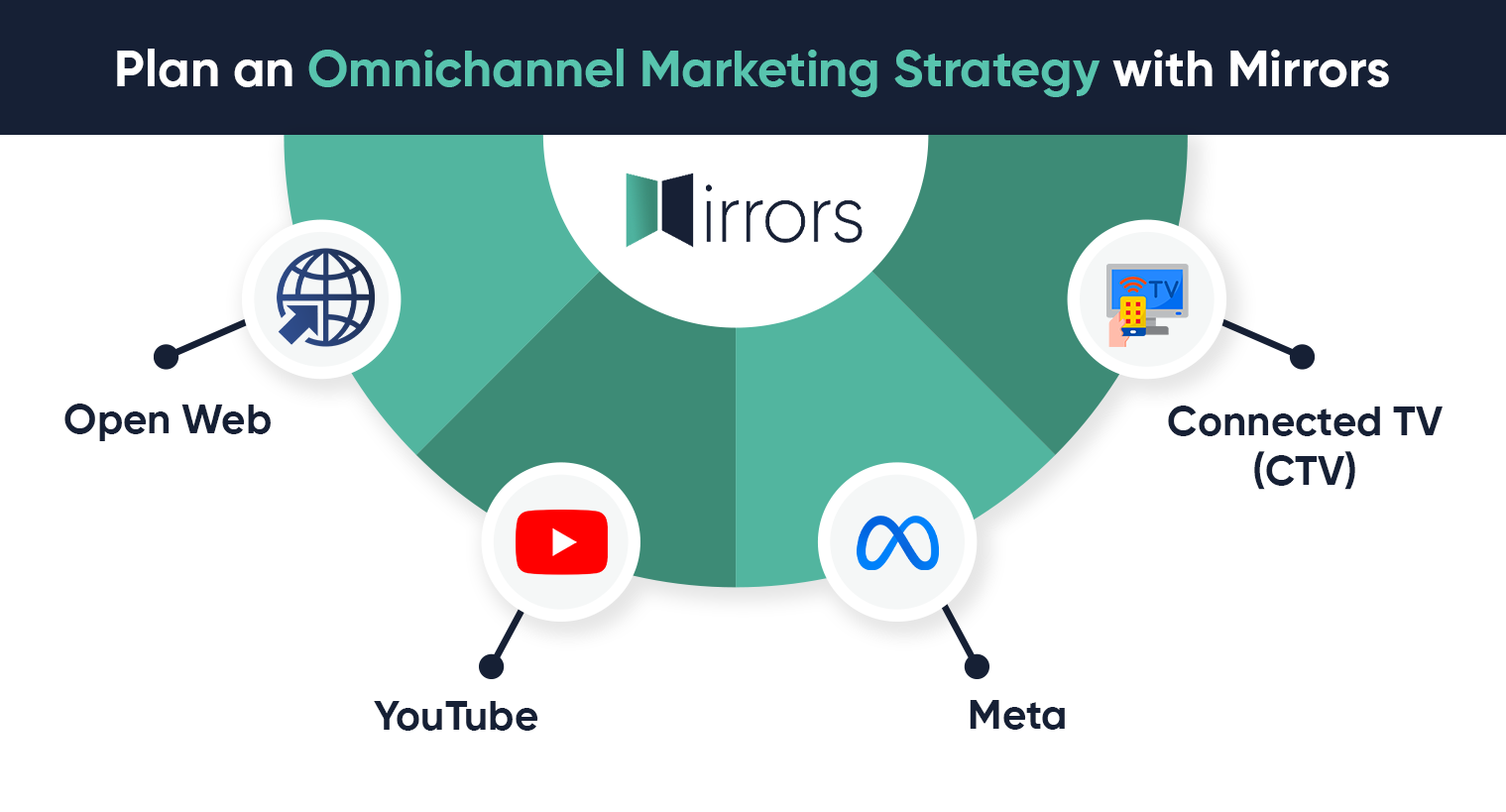 Mirrors, the next-generation AI technology, offers brands a multi-platform solution to advertise across various channels, thereby extending their reach and amplifying their marketing efforts.
1. Open Web
Targeting audiences based on website content. Mirrors can also display ads based on the content of the user's website. For example, if a user is reading an article about eco-friendly cars, contextual advertising can display ads for hybrid or electric cars.
2. YouTube
~ 90% of global shoppers surveyed say they discovered new brands or products on YouTube and 40% say they have purchased products they discovered on YouTube. Watch time of car videos on YouTube has grown by more than 65% in the past two years. When looking to buy a new car, consumers often turn to video research. Auto marketers can use this opportunity to reach potential buyers who are actively considering a purchase, even if they are not familiar with their product. Over 75% of auto shoppers say that online video has influenced their shopping habits and purchases.
3. Meta
By leveraging Artificial Intelligence (AI), Machine Learning (ML), and Natural Language Processing (NLP) models, Mirrors carefully selects and processes brand-safe Facebook pages to extract contextual signals that enable the delivery of real-time, in-the-moment ads with exceptional performance. This advanced technology empowers brands to serve highly relevant ads while ensuring brand safety on Facebook.
4. Connected TV (CTV)
Mirrors analyzes content, creates custom ad segments, and uses semantic analysis to display ads in premium and relevant CTV video inventory, avoiding misplacement based on user emotions and behavior.
Exploring Real-World Use Cases of Mirrors
1. How Mirrors Helped an Automotive Brand in Competitor Conquesting
An automotive car brand leveraged Mirrors' AI technology to identify visual and audio cues related to key features of its competitors' vehicles across different segments. With this information, the brand effectively targeted YouTube videos containing these cues and seamlessly insert their brand messaging. Furthermore, Mirrors trained its AI to recognize key players, team logos, and other sporting objects to help the brand capture the enormous viewership of YouTube game/race highlights, interviews, and other relevant content. By utilizing Mirrors, the automotive car brand efficiently and strategically reach its target audience while also gaining a competitive edge over its rivals.
2. Mirrors Enabled an Automotive Brand to Achieve Complete Brand Safety in Ad Display
Our client, an automotive car brand successfully utilized Mirrors to maintain brand safety while advertising on digital platforms. Mirrors' AI technology performed a thorough frame-by-frame analysis of YouTube video IDs, enabling us to go beyond broad keyword, category, and channel exclusions.
Mirrors' pre-defined visual and audio context detection allowed us to exclude videos that did not align with our core values. By conducting video-level analysis, our AI became even more selective about when and where to block content, thus ensuring the perfect balance between brand protection and suitability.
Our brand safety standards, fully aligned with industry standards such as GARM, COPPA, CCPA, GDPR, and LDA compliance, were enhanced without over-blocking. Thanks to Mirrors, the automotive car brand effectively maintained brand safety while simultaneously maximizing our reach and engagement with our target audience on YouTube. 
3. Automotive Brand Utilizes Frame-Level Video Analysis for Contextual Ad Placement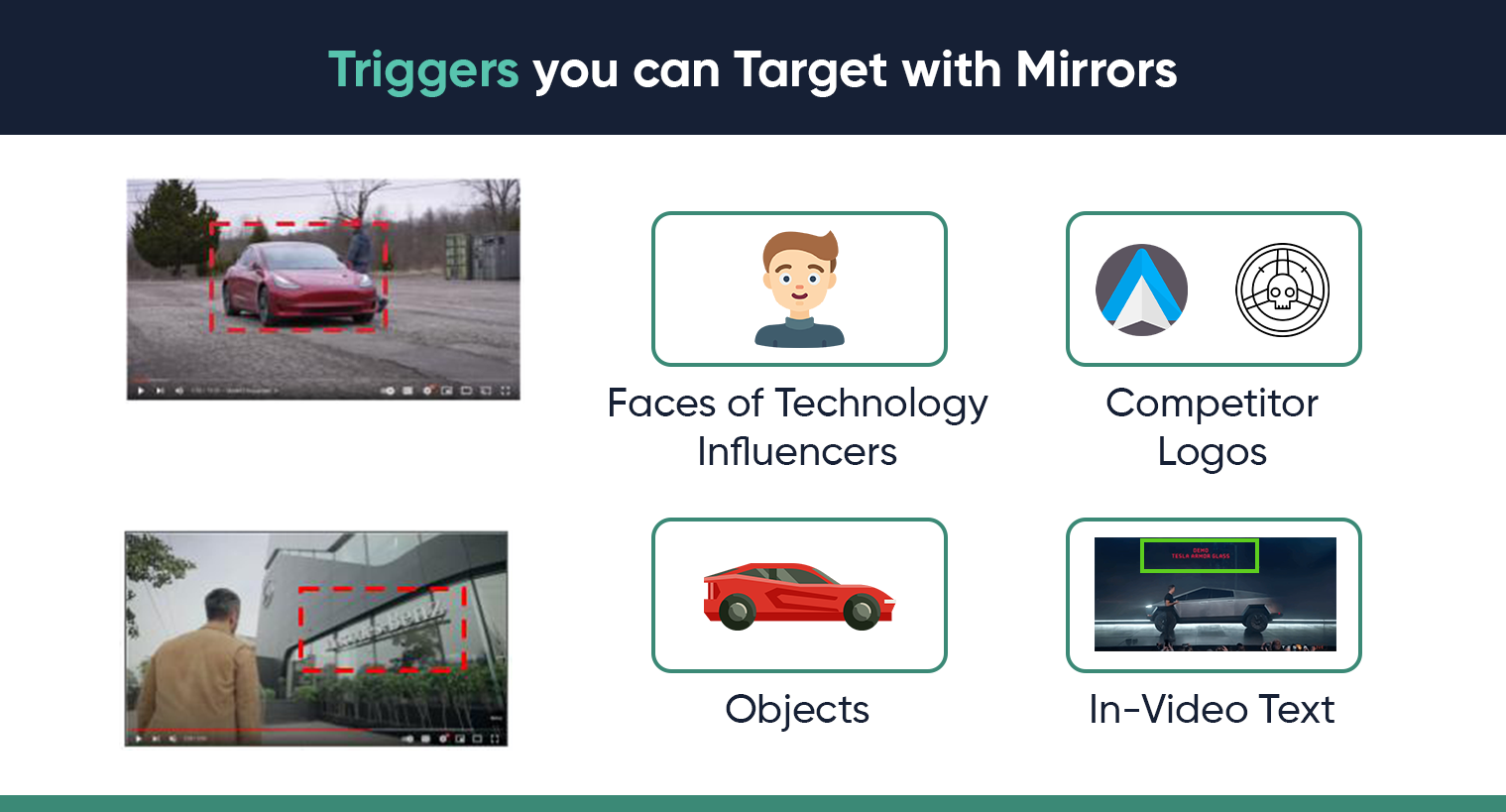 Mirrors helped an automotive brand reach and engage with its target audience interested in automobiles. By leveraging their competitors' brands through trigger detection based on logos (of Hyundai, Chevrolet, Nissan, etc.), brand ambassadors, influencers, car-tech reviews, automobile showrooms, test drive videos, and more, Mirrors maximized the brand's exposure in the market.
Through Mirrors' advanced AI technology, the visual triggers were analyzed and ads were at the right place and moment, effectively targeting the relevant audience.
How Can Brands Benefit from Mirrors' Hyper Contextual Advertising Technology?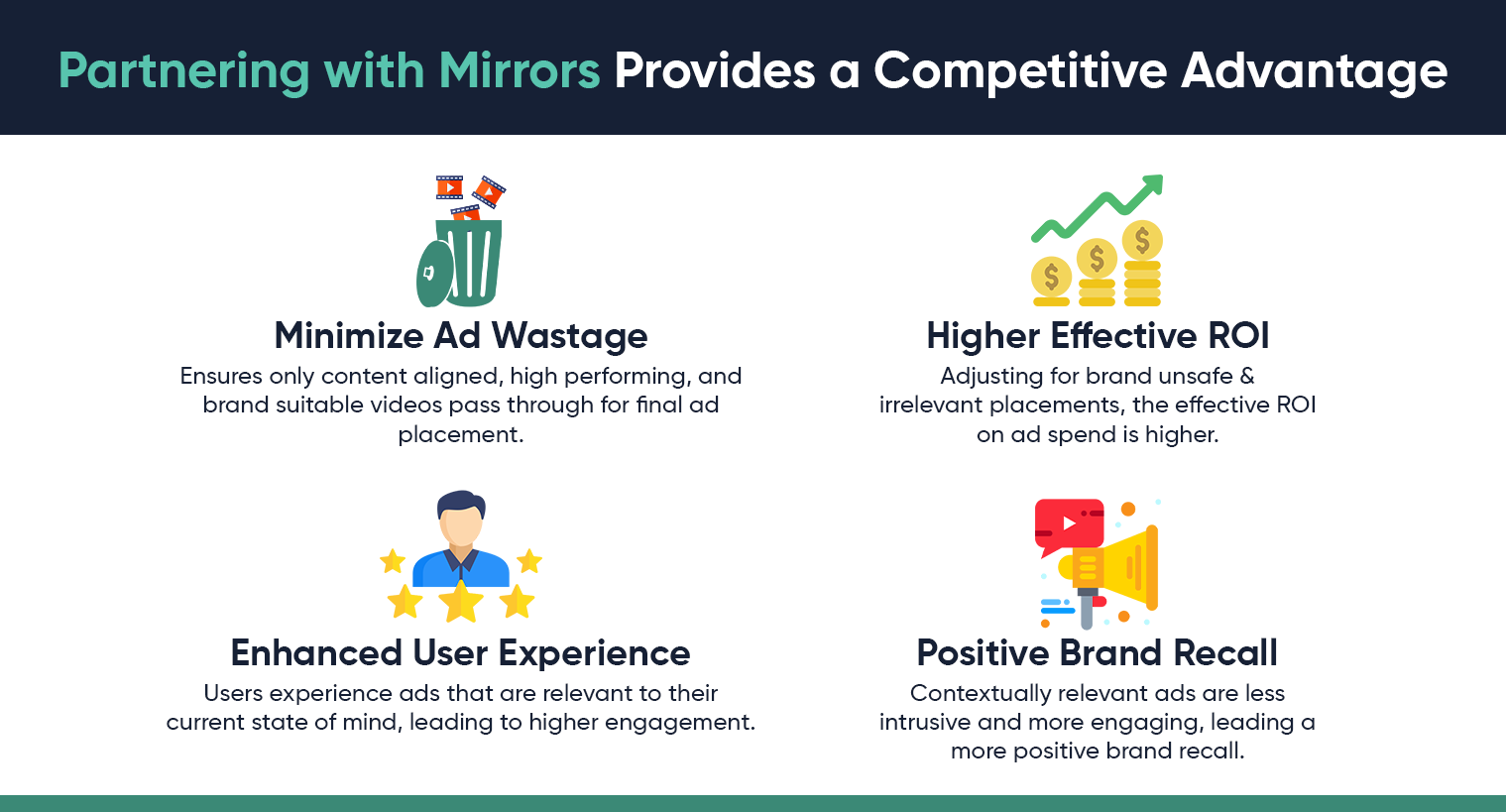 Get Started With An Omni-Channel Marketing Strategy for Your Automotive Advertising
The greatest challenge for marketers in the auto industry is driving users through the often lengthy path to purchase. Since people today are online on a variety of devices, and using a variety of channels, it's crucial to have coverage across multiple digital environments. 
Multi-channel targeting enables advertisers to reach users across different platforms and channels. This helps a campaign achieve greater reach by capturing users wherever they are online. 
Ready to drive auto advertising performance? Fill out the form on your right and your Silverpush representative will contact you soon with more information on how to get started.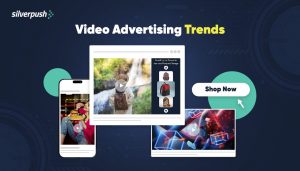 BLOGS
Unlocking the Vault: The Secret Trends Driving Video Ads in 2024 and Beyond
Video advertising has emerged as a pivotal element in the domain of content marketing strategy. Whether it's a concise 30-second ad, an interactive campaign, or captivating live footage, integrated videos within your content stand out as a highly favored and efficacious means to captivate your audience.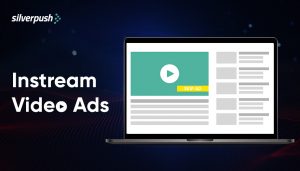 BLOGS
What are Instream Video Ads & What's so great about it?
Navigating the marketing industry can be daunting with its ever-evolving landscape of acronyms and dynamic definitions. The latest puzzle to unravel? Instream video. To empower marketers, let's delve into what are Instream video, highlighting recent updates, the pros and cons, aiding in an informed decision tailored to specific marketing goals and ...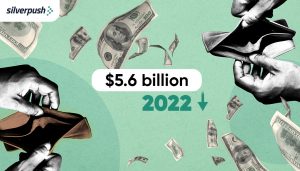 BLOGS
$5.6 billion of digital ad spend was wasted in 2022: Are you Doing it Right?
As someone who creates a bunch of ads, both traditional ones and some really out-there experimental ones, you've always had this nagging question in your head. It's like, are your efforts actually hitting the mark, or are they just disappearing into the online void? According to a report of Digital Media ...