How do Images and Videos Help Deliver Contextual Ads?
| 13 May, 2022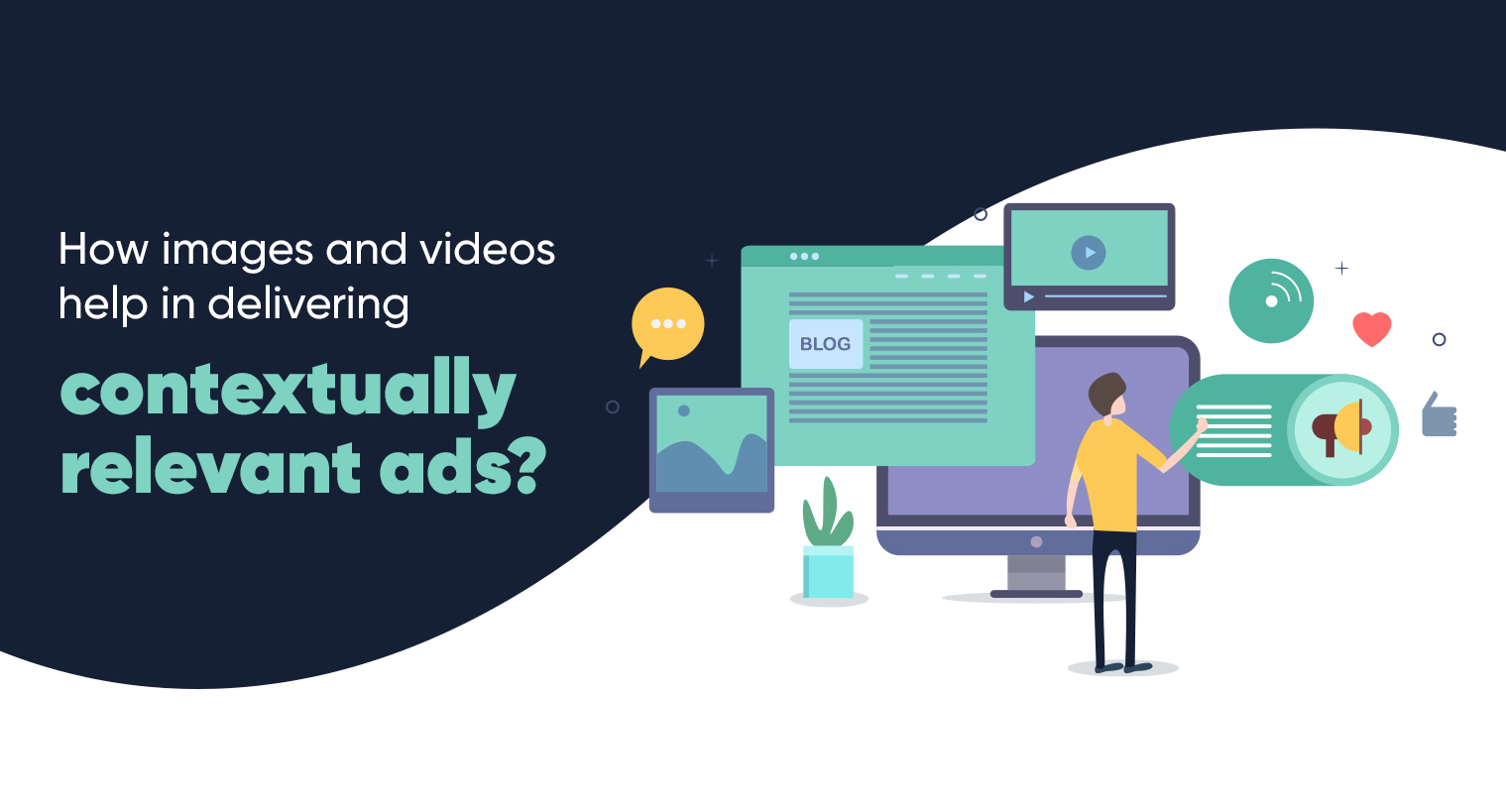 Contextual advertising or contextual targeting means displaying ads on a website that is relevant to the page's content. An example of contextually relevant ads can be serving ads to buy movie tickets or signing up for a movie streaming service on a movie review blog. 
With third-party cookies on the verge of complete phase-out, brands are looking out for alternatives to it. There is nothing better than contextual ads that do not require any user's data, thus respecting the user's privacy completely. 
The best way to use contextual ads is to deliver them on images and videos, as they form the most interesting form of content. Do you want to know how? For that, keep reading! 
But before moving forward let's dive into the details and understand what is contextual advertising and how important it is in today's era. 
What is Contextual Advertising?
Contextual advertising refers to the placement of a display advertisement on websites that are closely related to the product being advertised. As a result, the content of the ad is closely tied to the content of the site/page.
Most importantly, it aids in targeting the right audience at the right time and place, converting them, and increasing ROI. An example of this is displaying utensil ads in a home décor magazine.
Importance of Contextual Advertising in the Adtech Industry?
The benefits of contextual ads make it one of the greatest advertising methods, outweighing all other types of advertising approaches. Let's find out what they are.
Easy and Cost-Effective Advertising Method
Because behavioral advertising needs a large amount of data, methods for obtaining and interpreting it, tactics for exploiting it and people to enhance the process, are all required.
This strategy, however, is impractical for organizations with limited resources and client data. In its place, contextual advertising provides a simple and low-cost alternative, as well as a level of relevance in its own right.
Brand Safety & Suitability
Behavioral advertising raises serious concerns about brand safety and brand suitability. Contextual targeting, on the other hand, places the web page where the ad appears at the center of the campaign.
It is also totally up to you to choose the themes, subtopics, and keywords. This reduces the likelihood of your ads following a user to a site where they do not want to see the ads and where you do not want them to appear.
Prioritizing User Privacy
Contextual advertising is one of the most effective ad delivery tactics since it does not require any sensitive personal information. This is safer for advertisers who want to guarantee that their ads are compliant with the privacy laws.
Relevant But Not Pushy
Some firms' ads follow customers long after they have purchased something. Poor advertising results when advertisers constantly target their customers. Contextual ads help to keep relevance without annoying the viewer.
A user is less likely to feel followed by advertising if it is related to the material they are now seeing. Even though the advertisement follows the user around, it is much less obvious when it is contextually appropriate.
Context Matters More Than Behavior
Advertisers recognize that customization is a powerful marketing tactic. This is just because it makes an advertisement more relevant. Furthermore, an ad adapted to previous behavior isn't necessarily totally relevant to present desires or requirements.
Role of Images and Video in Delivering Contextual Ads
Images and videos are highly interesting and most sought after forms of online content. AI-powered solutions are now available that deliver contextual ads against online images and videos, thus generating high engagement.
Such contextual advertising solutions offer intelligent in-video context detection tech that identifies faces, logos, objects, places, actions, on-screen text and audio for a nuanced targeting of videos and images. 
The AI-driven and human-enhanced contextual video advertising technology helps brands reach their target audience at the correct time and in the right context. 
The deeply trained proprietary AI models also detect custom-defined unsafe contexts in streaming videos and don't display your ads against them. These videos are divided into different categories including smoking, adult, violence, crashes, guns, terrorism and others. 
Content-aligned ad placement, brand safety, and customized brand compatibility are all ensured during the process, as is reaching the widest potential audience.