New Advertising Rules of Twitter
| 25 May, 2022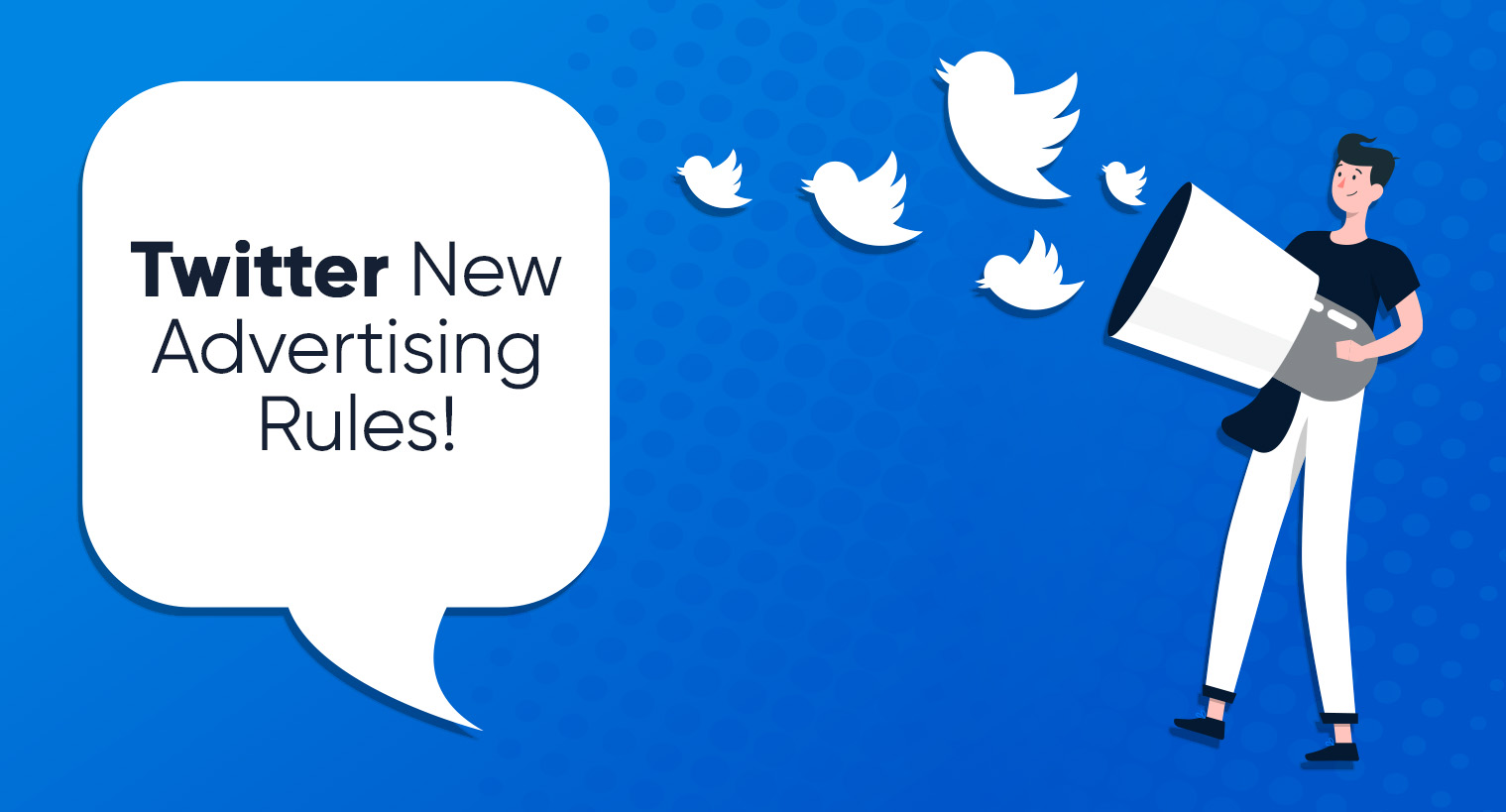 Hey, what's trending? 
#Facebook?
#Instagram?
#Twitterads – Yes this seems like the right answer!
In a world where people are constantly trying to restrict their time on social media, they go to Twitter for the most real-time information and relevant trending topics. The original concept of "trending" was discovered by Twitter through the creation of the hashtag. The hashtags were reintroduced by Twitter as a new social media tool where people could see who else was keen on a particular topic. 
But wait, that's not why Twitter ads are trending today. So, what made Twitter ads a hot topic today? Let's cut to the chase and find out what's new with the Twitter ads today.
So, recently Twitter Ads have made some changes and addition to its rules and policies. This might have come as a shock to some marketers but many of them are still unaware of it. So we need to first check out what changes are implied to its ads policies by Twitter:
What are the New Rules of Twitter Ads?
Twitter's major purpose is to serve the public conversation. Abuse, violence, harassment, and other similar sorts of behavior demotivate people from expressing themselves and at the end, diminish the value of global conversation. twitter rules are to ensure all users can participate in public conversation safely and freely.
Safety
Violence

: Twitter prohibits the glorification of violence by an individual or group of people.The social media platform has strict policies regarding violence. 

Terrorism

: No one is allowed to promote terrorism or violent extremusm on the platform. Otherwise, Twitter may take strict actions against that person or group.

Child exploitation:

Twitter has zero-tolerance policy for child abuse or child sexual exploitation.

Abuse/harassment:

No one is allowed to engage itself in any targeted harassment of someone, or encourage other people to do so. For example it  includes wishing or hoping that your enemy experiences physical harm. 

Hateful conduct:

Promotion of violence against other people on the basis of ethnicity, nationality, race, disability, caste, sexual preference, gender, identity, religious preference, age, or serious disease will be counted as an offense on Twitter.

Self-harm or suicide:

Users cannot promote or encourage suicide or self-harm practices.

Illegal goods or services:

Users may not use Twitter's service for any illegal purpose or unlawful activities. This includes buying, selling or helping transactions in illegal goods or services, or even certain types of regulated goods or services.
Also Read: ​​10 Exciting Benefits of LinkedIn Ads to Focus in 2022
Privacy
Personal data:

Users may not be able to publish or post other people's personal information (such as phone number and address) without their authorization and permission. We also restrict threatening to expose personal data or incentivizing others to do so. 

Non-consensual nudity:

users won't be able to post or share intimate pictures or videos of someone that were made or leaked without their consent.
Authenticity
Spam and Platform manipulation:

Twitter has banned use of its services in a way that unnaturally amplify or suppress data or manipulates people's experiences.

Civic Integrity:

Using Twitter's services for manipulating or interfering in elections or other civic procedures will be counted as an offense. This includes sharing content that may decrease participation or mislead users about when, where, or how to take part in a civic process.

Copyright and trademark:

Any user may not be able to violate others' intellectual property rights, such as copyright and trademark.
Third-Party Advertising in Video Content
Any individual may not be able to post, share or display any video content on Twitter that includes third-party endorsements, such as pre-roll video ads or sponsored graphics, without the app's prior consent.
Conclusion:
To ensure the safety of its users, Twitter has always been there. The platform offers the safest environment to its users and that's the reason why it keep updating its policies and rules timely.
We hope this article was helpful to you, but, if you wanna know more about Twitter ads, click here.