5 Types of YouTube Ads that Marketers Use 
| 17 Mar, 2022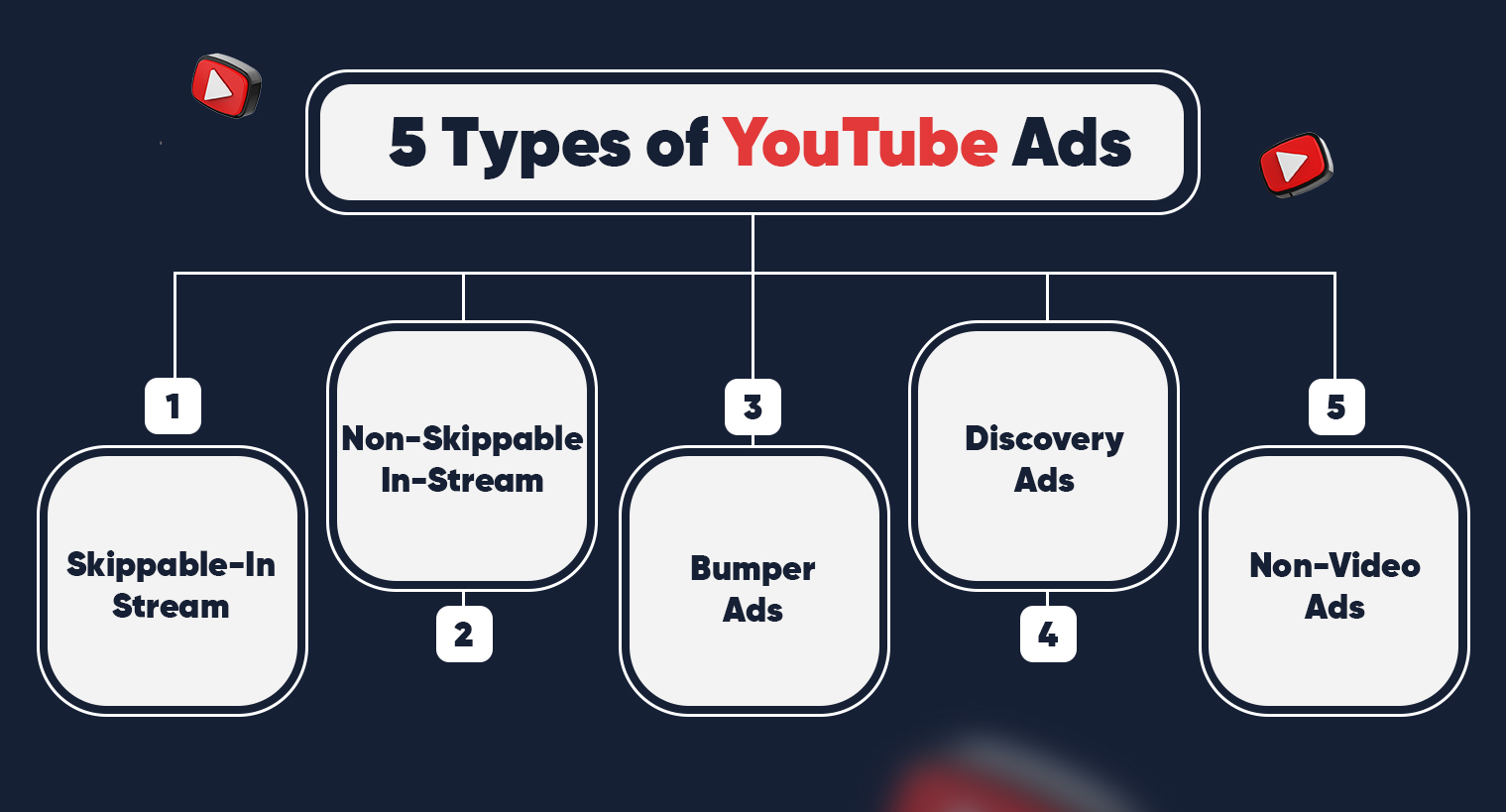 "Broadcast Yourself." That's what YouTube says. Twenty-two years ago, this online video platform was born, and today it is the largest search engine in the world. On the contrary, many small and medium-size businesses chase Google ads because they have a preconceived notion that "videos are expensive and complicated to use."
How much truth does this statement carry? Let's unveil the absolute truth behind the use of YouTube ads and YouTube ads cost. As a marketer, you cannot avoid videos because they are everywhere! And avoiding them can be a disaster. 
This article will take you through 5 types of YouTube video ads that would help your brand grow manifold with the rise of this video platform.
Different Types of YouTube Ads Used by Marketers
Skippable-in Stream YouTube Video Ads
These ads can be played before or after the video and plays for a minimum of 5 seconds, with the user having the liberty to skip after 5 seconds. The maximum duration has to be under 3 minutes, with a minimum being 12 seconds. You'll only get charged when someone watches the video for at least 30 seconds, or the entire ad (for any ad under 30 seconds) or if they click on it.
Non-Skippable-in-Stream Video Ads
You can play these ads before or after the video with a difference that you cannot skip. The way that these YouTube ads cost advertisers is quite different. The charges are incurred per impression, more specifically, per 1000 views, abbreviated as CPM. This one's for you when your brand needs to show visibility and doesn't want to risk getting hundreds and thousands of ad skips.
Bumper Ads
These ads are six-seconds long, non-skippable video ads that play right before an actual video. These Google Ads for YouTube channels are perfect for anyone with a simple message to get across and don't need to produce a minute-long ad. It's great for creating awareness and easy recalling of the ad as it's just 6 seconds long. 
Discovery Ads
These ads act as search engines for YouTube. Like Google text ads, YouTube's Discovery Ads also says "Ad" in a box to let users know they would be paid based on the results. Discovery ads are composed of a thumbnail image and three lines of text. The most exciting part is that these ads can show on the search results page, video watch page, and YouTube homepage, which gives them quite a bit of visibility. 
Non-Video Ads
These ads are just like banner ads and don't let you shell big pennies. It can be in the form of an image, text, or button. These YouTube promotions cost money based on cost per click and are also quite affordable if you do not want to invest in creating a video. 
Bonus Tip
You can choose to add extensions on the YouTube campaigns ad formats and add site links to help the user redirect to the landing page with ease. 
To sum up, quickly, there is no factual formula for you to follow and create and promote YouTube video Google Ads, but you need to understand how you want the audience to perceive the ad. And the least, recall it!
The safest bet to follow is exactly who your audience is and their preferences. 
Was it an interesting read? We have many more like these. Read our other blogs like 6 New Google Ads Updates You can't Miss to Check out in 2022.