Brand Safety: A Sure Shot Guide
PUBLISH DATE: 31 October 2022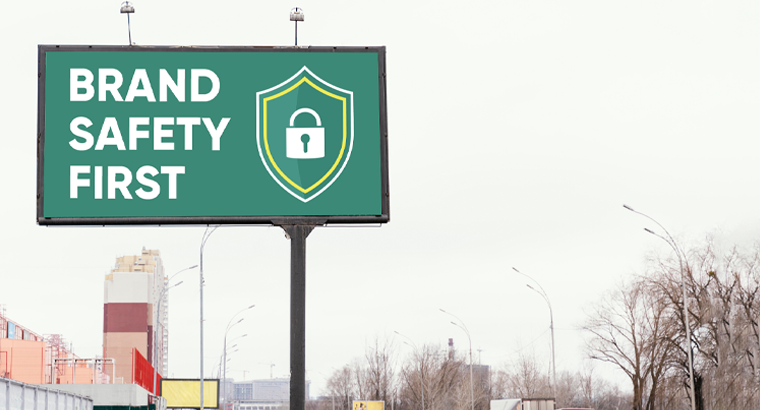 Study: Brand safety impacts 75% of companies, yet only 26% take action. Are you the one taking action?
The goal while advertising is clear: The brand must be protected at all costs! But the question is, how?
The different targeting methods used by brands on various platforms (YouTube, Social & OpenWeb) revolves around either using their data or keeping brands completely in the dark about where their ads are getting placed. The reason for this? The growth of programmatic advertising and dependency on behavioral targeting.
This has left brands under threat. How to ensure ad messaging does not appear next to harmful content online? How to protect brands' credibility and their customers? 
Answering these major questions is this guide which delves deep into the topic of brand safety. Here, we will break down brand safety, and the different threats looming around it and lay down the protection measures to be followed for the success of brands in a fast-approaching cookie-less world.
What's in the Guide?
Brand Safety Crisis – Where it All Began?
The first major brand safety disaster in the world of video advertising occurred in March 2017. The Guardian, a British daily newspaper, blacklisted YouTube after discovering its advertisements appearing alongside hate speech and extremist content.
As a result, major names like Toyota, Proctor & Gamble, AT&T, and Verizon withdrew millions of dollars in ad spending from YouTube.
For the first time, YouTube was dealing with both reputation and revenue damage. And it wouldn't be the last time. Despite implementing remedial steps in 2017, 2018, and 2019, YouTube was still blamed for harmful brand exposure.
YouTube is not the only platform affected by the problem; marketers on Facebook and Twitter are also experiencing brand safety difficulties.
What is Brand Safety?
According to the Internet Advertising Bureau (IAB), "brand safety is keeping a brand's reputation safe when they place their ads online". In simple words, brand safety is just taking measures to ensure that ad messaging appears against content that is not harmful in any manner. 
The result of this is reduced risk of ad misplacement and a brand's reputation unharmed. Plus, the elimination of the funding of content and services that infringe copyright. But it's a lot more complicated than it seems. 
The IAB has put benchmarks in place to help marketers avoid unsafe content and execute brand safety measures. While the list is constantly expanding, harmful content is referred to by global digital advertising as the "Dirty Dozen" category that needs to be avoided.
Example of Brand Safety
Depending on the image they've created, different brands have various rules regarding where they want to promote their product. An example of this is the renowned brand, Apple, which does not allow villainous characters on the screen using their devices. All this is done to protect their brand image.
Below is an example of a top coke brand's ad being displayed on violent content.
How is Brand Safety Different from Brand Suitability?
While brand safety categories enable businesses to avoid having their ads placed next to inappropriate content, these few industry rules might look excessively harsh at times. It is far more complicated than simply avoiding harmful words or creating keyword block lists. This is when brand appropriateness comes into play.
Brand suitability takes brand safety to the next level. It is more than just ensuring that the brand's reputation is not affected as a result of the facts around it. More importantly, brand compatibility is based on understanding the complete context of a page to ensure that it is suitable and matches the message of a brand.
Brand Suitability Examples
What is appropriate for a healthcare brand will almost certainly differ significantly from what is proper for an alcohol brand.
Marketers dealing with luxury watch businesses should avoid material geared at children and instead look for content aimed at working professionals.
Brand Safety on Social Media Platforms
The popularity of social media has increased significantly in recent years. A recent survey found that one in every four customers spends more than five hours each day on social media.
Facebook is the most popular, with 83% of respondents stating they had an account, followed by YouTube.
In the midst of fake news and possibly unpleasant information, marketers are becoming increasingly worried about their brand safety on such platforms.
Other social media platforms like TikTok have surpassed one billion users worldwide, and have emerged stronger from the epidemic. These platforms have faced several brand safety crises in the past year, discussing some of them below:
State of Brand Safety on Different Social Media Platforms
1. YouTube
Timeline of YT's brand safety crisis:
2. Facebook & Twitter
Facebook and Twitter made a greater play for video advertising from 2017 to 2019. Both platforms leveraged YouTube's fails, by making brand safety a central theme to promote their video ads business. Despite this, both platforms experienced massive issues ranging from unsafe brand exposure to data privacy violations.
Challenges of Brand Safety
Millions of dollars worth of video ad spent primarily to find a home on social video platforms like YouTube, Facebook, Twitter, Snapchat, and more. Ads are placed against user-generated content, where the objective is to leverage fast-churning content that users relate with. However, with 500 hours of videos uploaded to YouTube alone each minute, it is a challenge to limit ad placement only to content that seems suitable.
Brand safety is concerned with preventing the loss of trust between a brand and a customer. This is due to the fact that without trust, revenue, brand equity, and customers' interests are either reduced or eliminated.
A transparent digital advertising brand safety vendor partnership is the solution to this problem. 
Advertisers must understand that the brand safety approach used for their digital advertising initiatives works at the speed of culture. This can help in absorbing new issues as they arise, and does not over-block information or allow unsafe/inappropriate content to pass through.
This happens mostly during keyword blocking and domain-level allow and blocklisting. Because of over-blocking, many keywords that have different meanings, and URL domains that house information on a broad variety of topics get sidelined. 
When it comes to brand suitability, many businesses fail to execute it successfully due to the inability to find a comprehensive solution.
According to a recent survey, 49 percent of marketers have encountered brand suitability failure, 54 percent have faced consumer hostility, and 44 percent have lost revenue because of it.
Threats to Brand Safety
1. "Malgorithms" – when pages and ads misalign
Malgorithms are examples of advertisements in which the contextual meaning of a page and a display ad is mismatched.
2. Ads on Fake News
If you don't pay attention to where your ad appears, your brand may be associated with fake publications and harmful charges. The pizza gate narrative, which became viral in 2016, is an example of this. It's a problem that has prompted Reddit to remove programmatic advertising from conspiracy theory posts. While Google's AdSense policy has been modified. All of these changes are the result of businesses refusing to identify with harmful "false" material. AdSense will no longer display advertisements on websites that "misrepresent, misstate, or hide facts."
3. Extremist Sites
Moving on from the issue of false news, there is the possibility of adverts on a website that promotes extreme ideas. A marketer's worst nightmare is having their brand connected with a divisive position. Let alone knowing that their point of view was supported by an advertisement! Again, whether far left, far right, racist, sexist, or fundamentalist, a brand does not want to be associated with a harmful material. Google, in particular, has been under intense criticism. In fact, it was shown that brands in the United Kingdom had unintentionally given over £250,000 to extremist websites in the previous year.
Importance of Brand Safety
It takes years and significant resources for a brand to build a reputation in the minds of consumers. Not just the product or service, the consumers also connect with the brands' values and principles. Even a single, less-than-desired association, can tarnish a brand's reputation and consumers' trust.
According to data, 1 in 10 ads is placed against harmful content.
Protecting your brand's reputation and image within the industry is integral to garnering long-term success. Here's why is brand safety important:‍
1. It Safeguards Your Reputation
It's important to ensure that your brand is in good standing among the clients and the industry at large. 80% of consumers will stop or reduce buying products advertised across extreme or violent content. The type of content within which your brand is displayed will directly relate to how your brand is perceived. For example, if your ad messaging is placed within range describing natural disasters, that may paint your brand in a negative light. Therefore, putting brand safety measures in place will help to safeguard your reputation and build trust with your consumers.
2. It Helps You Stay Competitive
Gone are the days when brands stayed silent on important issues! By aligning yourself with the social causes you believe in, you will not only promote your brand identity but also stay competitive in a world where consumers want brands they are supporting to have a voice.
3. It can Optimize Your Ad Spend
In order to promote brand safety, your ads will most likely appear within premium content where your ad spend is optimized and going toward valuable impressions and engagement. Plus, any threats to your brand's safety can cause consumers to lose trust and decrease your revenue.
Who Decides "What's Safe & Unsafe"?
Many organizations are working to develop brand safety policies. The most well-known organizations are the Interactive Advertising Bureau (IAB) and the Media Rating Council (MRC).
These trade organizations, in partnership with brand safety vendors, establish rules and best practices for publishers, advertisers, and agencies to follow in order to maintain a healthy supply chain and thereby avoid placing their advertising on unsafe material.
They lay the groundwork for ensuring that the publisher's inventory is accessible, meets privacy rules, and adheres to best practices for placement. Similarly, advertisers must adhere to brand authenticity and material restrictions for ad standards.
Ensuring Brand Safety with Mirrors
One of the key challenges with traditional brand safety tools is the inability to identify the right context, be it keyword targeting, blacklists, or dealing with unsafe programmatic video ad placements. 
Mirrors, by Silverpush, is an AI-Powered contextual targeting solution focusing on serving personalized ads to the audience in a complete brand-safe environment.  It enables the processing of large volumes of data at speed, with better context, at a larger scale, and improved targeting efficiency.
It focuses not only on brand safety but also on context-relevant brand suitability. Its AI-powered in-video context detection delivers brand safety controls without killing your reach and tackles the problems of over-blocking. 
Mirrors' computer vision technology has increasingly made it possible to detect in-video contexts with great accuracy. It offers unparalleled insight for advertisers to place context-relevant video ads in a highly structured manner, and at the scale, programmatic has traditionally offered.
It can block ad placements against unwanted, unsuitable, irrelevant, and harmful content. These solutions can provide the highest accuracy to not let a single damaging ad placement pass through, by using frame-by-frame parsing of video content. 
100% Brand Safety with Mirrors
Mirrors' deeply trained proprietary AI models detect custom-defined unsafe contexts like faces, actions, objects, and scenarios in a streaming video to contextually filter video content.
These videos are classified into many levels of video content, including smoking, adult, violence, wrecks, arms, terrorism, and others.
Along with this, it also focuses on brand suitability through text & sentiment analysis, engagement metrics, and organic influence at the video level.
At Silverpush, we work with clients to create contextual advertising solutions that ensure brand safety and maximum ROI. Contact us today to learn more about how Silverpush can help boost your ad revenue and grow your business!
To learn about Silverpush and its offerings, please click here.