A Complete Guide on LinkedIn Image Ad Retargeting
| 30 May, 2022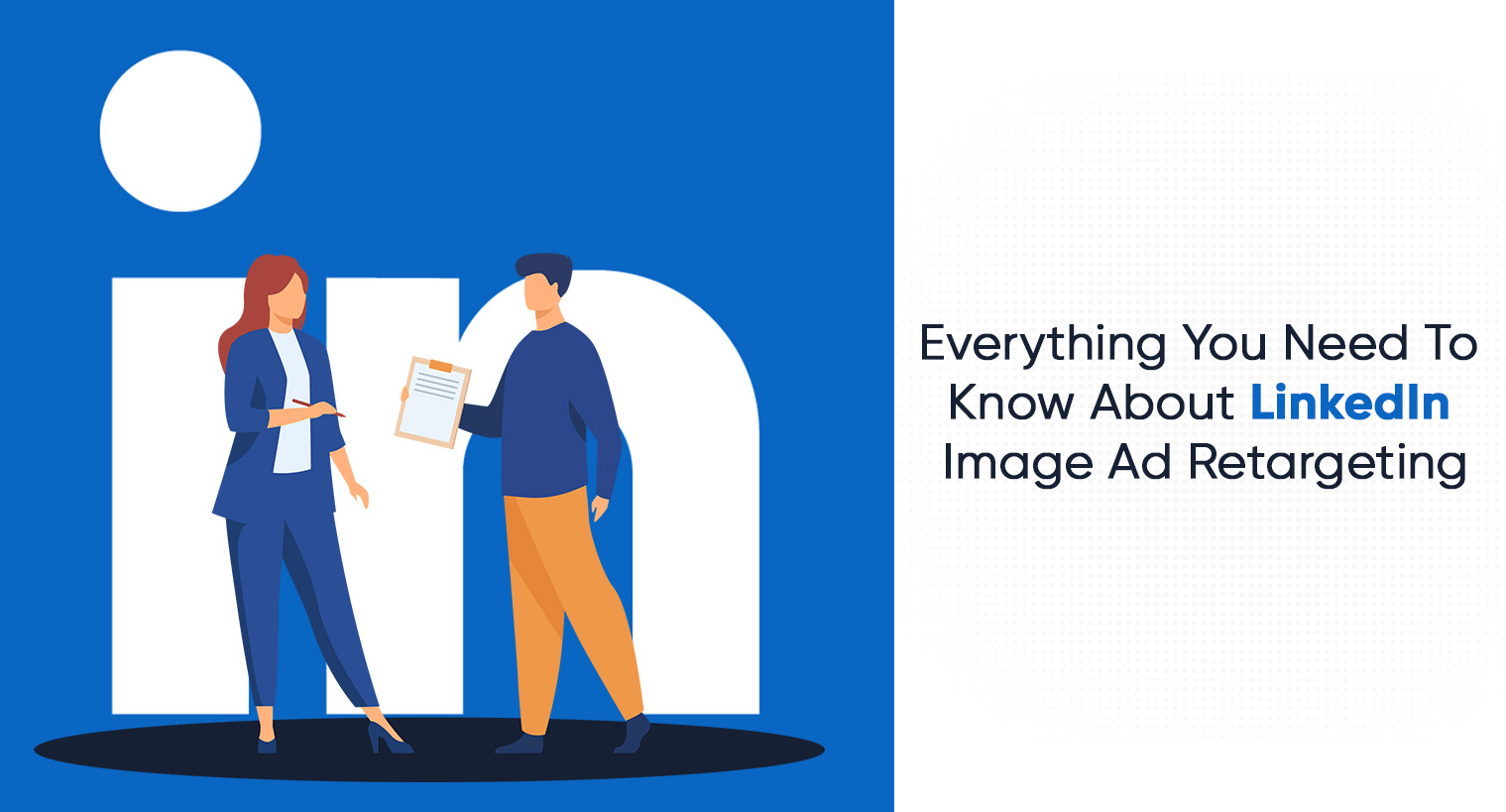 In recent years, LinkedIn has added various new features to its services. For example, in April 2022, it released the option to build a retargeting audience on the basis of the individuals who engage with the single image ads. If you want to use social media as a tool to give a voice to your brand, it is important that you carefully plan for it, or else it won't give you the results you expect. 
In the year 2022, the professional networking platform, LinkedIn projected to reach 66.8 monthly million users. It is undoubtedly one of the biggest online career platforms worldwide and the vast majority of its users access the platform to strengthen their professional social network. However, by using LinkedIn ads, you can guarantee to give your brand a voice and ensuring that it reaches the right audience. One of the key component in this are the audience of influential decision-makers.
Among the 60+ active monthly users, four out of five members have the power to impact business decisions. This is what you need to target with the LinkedIn ads.
Following with our article, you will understand what is LinkedIn retargeting, how to create an ad on LinkedIn, how to get started with retargeting, and more. Scroll down to know all these details.
LinkedIn Retargeting
Whether you run a business, work for a company, or are seeking to be hired by a company, you know that LinkedIn is an important platform. LinkedIn offers various ad placement options like – Sponsored content, Sponsored Messaging, Dynamic Ads, Text Ads, etc. 
What are LinkedIn Retargeting Ads?
LinkedIn retargeting ads or remarketing ads allow you to reach and engage users who may have engaged with your brand in past (which indicates that they possess some level of interest in your brand), even if they haven't made any purchase.
How to Create LinkedIn Ads?
In order to create your own LinkedIn ads, you may check the steps below:
1st Step: Create a LinkedIn Page 
If you do not have a LinkedIn page already, it is essential to have one to create Sponsored Content and Sponsored Messaging Ads.
2nd Step: Log in to Campaign Manager
This will be the home to all your advertising activities, such as running campaigns and managing your budget. It is also known as LinkedIn's ad manager.
3rd Step: Select your objective
After this, select the what type of action you want to inspire among your audience.
4th Step: Select your target audience
Firstly, you need to set up a location, thereafter which you will have an option of adding job title, company name, industry type, etc. For the first timers, it is recommended (by LinkedIn) to target an audience of at least 50,000 for Sponsored Content and Text Ads. On the other hand, for Message Ads, 15,000 is best.
5th Step: Select an ad format
Depending on the kind of objective you have chosen, you'll be able to pick your desired ad format.
6th Step: Create budget and schedule
Set a budget range depending on other campaign bids for your ideal audience. For testing, LinkedIn has recommended a daily budget of around $100 or a monthly budget of $5,000.
7th Step: Build your ad
If you have selected Sponsored Content or Text Ads, you can see the preview of your final ad. However, in case, if you opted for Message Ads, you can then send yourself a test message to see how the final message ad will look.
8th Step: Make Payment and Start Measuring Performance
Finally proceed for the payment before you let the world see your ad and then start analyzing its performance.
How to Retarget on LinkedIn?
Retargeting on LinkedIn is a quick but not "simple" process. There are three ways by which you can retarget the professionals when it matters. These are –
Retarget by website – It is marketed to those who showed interest by visiting key pages on your company's website.
 Retarget video viewers – With this, you can keep your company in consideration with a qualified
audience who watched part or all your video ad.
Retarget by Lead Gen Forms – You can increase your chance of conversion from those who opened a lead form or either submitted a lead.
Here we have explained how you can retarget by all of the ways as mentioned above.
How to Retarget by Website?
In this section, we have explained how you can retarget by website, create a website audience and add it to your campaign.
1st Step: First of all, you need to ensure that your site has an Insight tag.
2nd Step: Once you have the insight tag, start by creating your website audience. To do so, click on the Matched Audiences tab and choose 'Create website audiences'. Define the website URL that will make up your website retargeting segments. Complete the set-up steps and start your campaign.
3rd Step: To setup the flow, navigate the target section of the campaign. After this, click on the Matched audiences tab, select '+ Add matched audiences' and choose 'Create website audiences.'
4th Step: After this, define the web URLs.
5th Step: In the next screen, you can multiple URLs if you desire to.
6th Step: Lastly, add segment to your audience. To add, click on 'Website Audiences' and select your website audience segment.
How to Retarget by Video or Lead Gen Forms?
Here you will understand how to create an audience on the basis of the action taken with your ad, for example – opening a video or filling a web generated form.
Firstly, visit the 'Account assets' tab and click on 'Matched Audiences'.
In the next step, click on 'Create audience' and choose the audience type in the drop down menu.
Now, fill in other required details like who do you want to target; when did they engage; which video campaigns do you want to create.
After creating audience, set up your campaign.
From the 'matched audiences' tab, add your audience to the campaign.
You would be wondering how the cookies understand how to communicate with LinkedIn. Well, This is done via a unique code called an Insight Tag that gets installed on your company's website. The pixel is capable of tracking website audiences, conversions, and website demographics for all your LinkedIn campaigns. It then sends this data from your website to LinkedIn, informing it that you've got someone interested who needs to be reminded that you exist.
Also Read: All You Need to Know About the Extraordinary Facebook Business Suite
LinkedIn Retargeting Options
By installing the Insight Tag, we can start Building LinkedIn Retargeting Audiences. All the options are available on one page, so it's quite easy to do.
Log into your LinkedIn Campaign Manager and choose the account you'll be working with.

Find the Account Assets tab and select Matched Audiences on the account page.

Click on "Create Audience" option (right side) of the Matched Audiences page.

Pick the audience type you'd like to build.

Choose Create to build a new audience.
Remember that it takes around 48 hours to develop an audience. You also require at least 300 members before you begin to send retargeting ads to those users. 
LinkedIn Retargeting Best Practices
You'll want to get the best for your buck when it comes to LinkedIn Retargeting Ads. So, follow these important practices to make sure your advertising offers good revenue.
Refurbish or Refine your ad content over time. If you see that certain pieces of content aren't relating with your audience, don't be scared to refurbish it until you figure out what's working. Ad copy and Images will reflect the audience you're trying to target.

Make a multiple ad formats based on the stage your potential customers are in. Keep testing formats and finalize the format that will move them towards your website.

Be very flexible. You'll be exploring and learning what works and what not. When you notice something isn't working out for you, change it.