How to Approach Facebook Ads Automation the Right Way?
| 18 May, 2022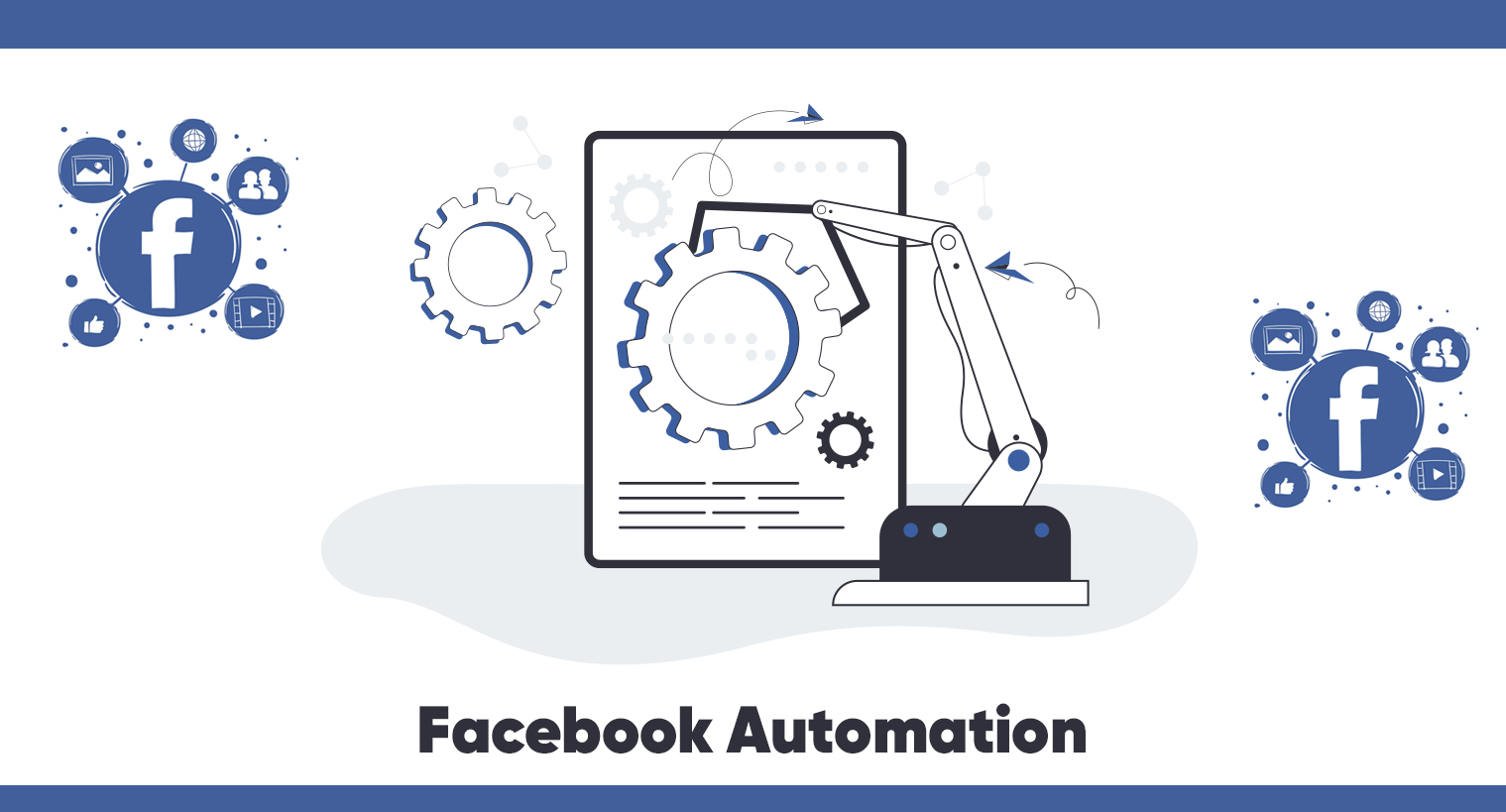 Facebook is one of the most used social media network worldwide. As per the statistics available, roughly 2.93 billion monthly users were active of the first quarter of 2022. Thus, the popularity of Facebook needs no further explanation. This platform is widely used to communicate, collaborate and connect. With billions of people using Facebook it provides a strong platform for the marketers to improve the conversion and complement their marketing efforts through Facebook Automated Ads.
Automated Facebook marketing has played a major role in making marketing easy and effective for advertisers. Furthermore, it does not require any difficult setup or technical knowledge, reducing the ad production process to answering a few easy questions about the business, entering ad language and graphics, and signing off on the completed output.
This article will answer all your queries on Facebook Automation Ads like what it means, how does it work, what are the different type of automation ads, and more.  
What is Facebook Ads Automation?
Facebook Automated Ads are advertisements that are made using a simple AI process and give minimal flexibility to make ad creation as simple as possible for users. It is more like a professional advertising expert that looks over your shoulder and assists you in creating the most efficient Facebook ad campaign possible. However, while it won't handle everything for you, it will take your ad goals, text, and design and make recommendations on how to make your campaigns better.
In simple terms, if you want to go beyond the Boost button and start generating more conversions for your business with little setup time, Facebook Automated Ads is the way to go.
Who should Use Facebook Automation Ads?
Facebook Automated Ads are apt for those who are just getting started with the Facebook Ads and don't have any prior experience set up any Facebook ad or campaign by themselves.
With the increase in the campaign objectives, targeting and editing options, Automated Ads makes it easier for the targeted Facebook marketing for anyone who is willing to give it a shot.
Benefits of Using Facebook Ads Automation
There are several ways in which automated Facebook Ads can help you with your marketing, some of them are:
Makes numerous copies of your advertisement for A/B testing.

Facebook's AI provides you with individualized ad recommendations.

Assists you in selecting your target and budget depending on your company and marketing objectives.

Gives you campaign tracking stats so you can see how your advertising is doing.

Suggestions for continuing ad tweaks to increase your campaign's performance as it runs.

Automated Facebook advertisements reach the sweet spot of putting you in charge of the creative process while leading you to the best possible conclusion.
What are the Different Type of Facebook Automated Ads?
From the previous section, we have learnt it already that Facebook Ads are great for you to reach your targeted audience that are more profitable to you. These ads are built by keeping certain goals in mind. To name a few, Brand exposure, Lead Generation, etc. Here we have discussed some of the most popular Facebook Ads which are available in the market at present –
Boosted Posts
Page Likes Ads
Website Visitors Ads
Website Purchases Ads
Automated Ads
Lead Ads
Event Ads
Messenger Ads
Boosted Posts
One of the option provided by Facebook is to boost a post across the social media advertising network's. It is done every time you publish it on your profile. This post looks similar to you typical Facebook post, but with Sponsored post written on the top.
Page Likes Ads
One of the best alternative for you to increase your Page Likes is 'Page Like Ads'. The best feature about this is that it has a Call To Action (or as it is commonly known by CTA) which encourages the users to like your page. Moreover, if your targeted user has friends on Facebook who have liked the advertised page, then it is noticed by the user as well as it says your friend also likes this.
Website Visitors Ads
Website Visitors Ads are used to advertise your external website which means that it will help you to advertise your landing pages or blog entries to reach a wide audience. So, if you are looking to increase traffic on your website, then this ad will reach people who are likely to click on the link.
Website Purchases Ads
Website Purchases Ad targets the audience specifically which have demonstrated interest in your product. It leverages Facebook Pixel data that is an analytics tool helping you to track how the audience is interacting with your Advertising. So, before using the Ads you are required to set up the Facebook Pixel data.
Automated Ads
If you are looking for the perfect balance between a simple page boost and a full-fledged Marketing campaign, then this is the best tool for you. It is all you could ask for in your Ads Manager as it utilizes Artificial Intelligence (AI) which further helps to improve the targeting and Ad budget.
Lead Ads
Lead Advertising helps to obtain the crucial information about the future potential customers using an Inform which is attached with the advertisement. It collects contact information for future promotions, drive engagement for your business, and do market research.
Event Ads
Facebook Events Ads helps to reach your target demographic by promoting your Facebook Events. If you imply the best practices then promoting your event on Facebook will reach a wider audience, you can collaborate with local organizations easily, explore new market, and can also boost your Facebook page more effectively.
Messenger Ads
Messenger Ads are displayed on the main tab of the Facebook Messenger. In the inbox, users can connect with your ad, and start a conversation on Facebook by clicking on it.
Complete Guide on How to Set up Facebook Automation Ads
Setting up Facebook Ads Automation is not as complicated as it seems. However, if you are new to it you can face certain hurdles. But, by following the steps below you will understand how to set up Automated Facebook Ads easily. 
Step 1: Create Facebook Ads Automation using Facebook Page
To get started with creating Facebook Automated Ads, follow the steps given below:
Log in to your Facebook account and open the Facebook Page.

Now, click on the "Promote" option in the lower left-hand corner of the Page.
Then, press the "Get Started with Automated Ads" option from the "Choose A Goal" column, and click on "Get Started".
Answer the questions that appear to provide information about your business and clients, allowing Facebook to better understand your business.
After completing all of the questions, hit on the "Next" button to proceed to the "Choose your Plan" section. Choose your preferred bundle for Automated Ads.
After this, proceed to fill out the following fields concerning your Automated Ads:
1. Ad Creative: Your Facebook ad needs to have a picture, a title, and text. Also, the Ad needs to be made in up to six distinct variations. Depending on your package, a Call-To-Action button, URL, or Form will also be required.

2. Audience: Choose a recommended audience or create a bespoke audience based on specific criteria.

3. Daily Budget:  Facebook Ads Automation will suggest a budget based on your strategy, but you may also set a unique budget.


4. Payment Method: You need to double-check your payment method. If required, you can change or update your payment method.
When you're done, click the "Promote" button.
Please Note: Facebook Automated Ads run indefinitely to learn what works best for your plan. As a result, you won't be able to specify an expiration date, but you may pause or delete your Automated Ads at any moment.
Step 2: Edit Facebook Ads Automation
Follow the steps below to edit your Facebook Automated Ads:
Go to your Facebook Page.

Next, press the "Ad Centre" option and then click on the "Automated Ads" button.

Locate the ad you wish to change and click on the "View Results" option. You may also alter the Creative versions, Daily Budget, Audience, and Payment methods.

Finally, when you are done, hit on the "Save Changes" option. 

Step 3: View Facebook Ads Automation Results
Follow the steps below to get the results for Facebook Automated Ads:
Navigate to your Facebook Page.

Then, from the "Ad Centre" option, select "Automated Ads."

Locate your ad and click "View Results."

To find detailed results, click the "Results" tab, as shown below.

Please Note: You can examine results for each iteration of your Ad Creative in the Overview tab by clicking the down arrowhead in the upper right-hand corner of your Ad and choosing View detailed results.
Step 4: Pause or Resume Facebook Ads Automation
Follow the step given below to know how to pause your Automated Ads:
Navigate to your Facebook Page.

Select the "Ad Center" option, then hit the "Automated Ads" button.

Locate your ad and click "View Results."

Toggle the green switch in the Settings tab to turn off Facebook Ads Automation.

Click "Pause Ad" to confirm. Your Automated Ads' status has been changed to Inactive.

Turn the green switch to the ON position to resume your Automated Ads. The status of your ad has been changed to Active.
Please Note: You may stop versions of your Ad Creative on the Overview tab by clicking the down arrowhead in the top-right corner of your Ad and selecting "Turn Off This Version."
Step 5: Delete Automated Ads
When you deactivate your Automated Ads, your plan is instantly ended, and your results are no longer available.  Follow the steps below to eliminate your Automated Ads:
Navigate to your Facebook Page.

Choose the "Ad Center" tab.

Choose "Automated Ads".

Locate your ad and click "View Results".

Select the settings icon in the bottom-left corner of the Settings tab.

Choose "Delete Ad".

To confirm, click "OK".
Last Words
Facebook Automated Ads are ideal for users who are just starting started with Facebook ads and don't have the time or knowledge to create unique Facebook ad campaigns.
They won't be able to replace personalized Facebook advertisements anytime soon, but they are great for businesses that have previously relied on boosted posts. With Automated Ads on Facebook, advertisers can get greater campaign objectives, targeting, and editing capabilities making automated Facebook marketing accessible to anybody willing to give it a shot.