Silverpush Launches Mirrors Generative AI at Cannes Lions 2023
| 07 Jul, 2023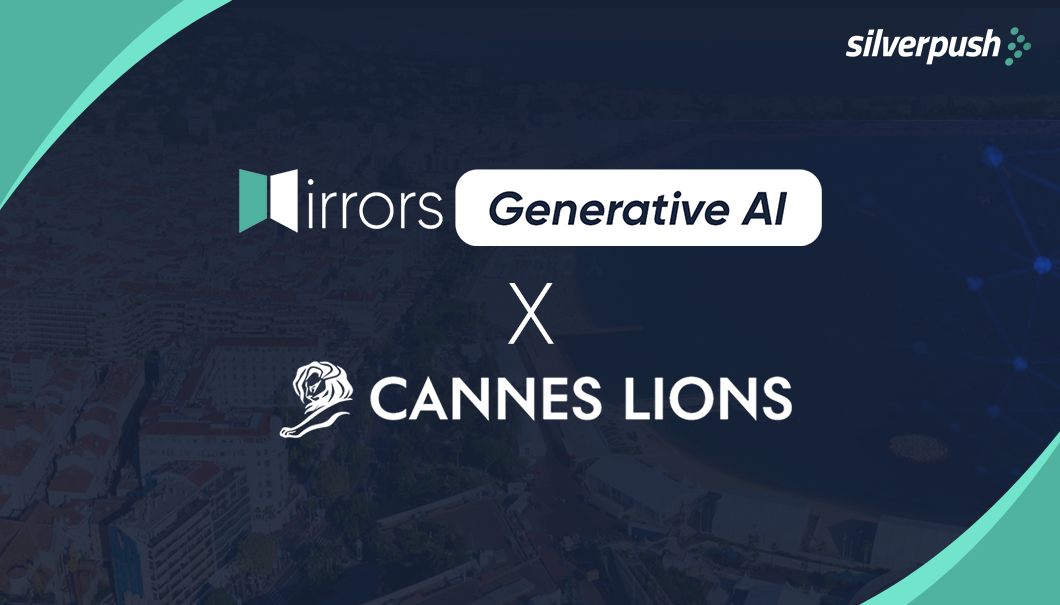 The Cannes Lions Festival this year encompassed a wide range of experiences, including parties, informal gatherings, and thought-provoking panel discussions. Generative AI continues to dominate discussions, accompanied by other significant topics. Silverpush, the AI advertising pioneer, made its debut at Cannes and launched the world's first contextual planning tool – Mirrors Generative AI.
This groundbreaking tool represents a significant advancement in the advertising industry, addressing human bias and automating context discovery. By leveraging machine learning, it creates a customized model based on the advertiser's brief, enabling frame-by-frame analysis of videos and scanning various web content, including webpages and surveys.
Mirrors Generative AI defines the audience's characteristics and interests, generates relevant content themes, and facilitates the mapping of these themes with contextual signals. This comprehensive approach allows clients to execute highly tailored contextual advertising campaigns that align precisely with their objectives, eliminating the loss of accuracy caused by standardization processes. Silverpush's Mirrors Generative AI marks a significant advancement in contextual advertising, offering enhanced precision and efficiency in campaign planning and execution.
Silverpush Key Takeaways in Cannes Lions Festival 2023
Here are some key takeaways from the Cannes Lions Festival:
Generative AI: Frenemy or Partner?
The Cannes Lions Festival witnessed extensive discussions on the subject of generative AI. While the advancements in AI and generative technologies have sparked creativity, marketers redirected their attention to exploring how these innovations can drive commercial growth for their brands. Although the utilization of generative AI in advertising is still in its nascent stages, noteworthy examples like Cadbury's Shah Rukh Khan-My-Ad campaign demonstrated the potential of leveraging AI to create highly targeted and influential content.
Multicultural Advertising
Brands are no longer simply acknowledging inclusivity; they are actively integrating it into their operations and initiatives. This shift was evident at the Cannes Lions Festival, where award-winning campaigns showcased the transformative power of creativity in promoting diversity and inclusivity. These campaigns served as inspiring examples, demonstrating how brands are challenging stereotypes and authentically representing diverse communities. The current focus is on implementing concrete measures to foster inclusivity and authenticity throughout all brand interactions.
Silverpush's cutting-edge technology uses frame-by-frame video analysis to detect relevant faces of minority community influencers, logos of minority-owned brands, actions, and objects related to multicultural audiences. Additionally, our advanced AI system scans the web to detect various languages that are relevant to the multicultural audience.
The Sustainability Conundrum
At the Cannes Lions Festival, brands presented innovative strategies to minimize their environmental footprint and encourage sustainable practices. It was recognized that additional efforts are necessary to effectively tackle the sustainability crisis and drive substantial progress. While the showcased initiatives were commendable, there was a collective understanding that further action is required to propel sustainability forward and create a more sustainable future.
Silverpush's advanced AI technology has been able to deliver over 4 billion relevant impressions for over 4000 campaigns for Fortune 500 brands in the past two years. The use of contextual targeting in these campaigns has resulted in a reduction of 1000 tons of CO2eq emissions.
Creative Automation
With media moving in real-time, brands need to keep up by pushing out more content to match consumer expectations. It can be challenging. Content scaling can be expensive with slow and cumbersome creative processes, generic ad experiences, and inconsistent designs. Brands just can't turn to old-fashioned creative production anymore. The answer is Creative Automation.
Crafters, a one-of-a-kind creative solution by Silverpush streamline your design process and get more done in less time. It creates and delivers personalized video ads to users based on a variety of data sources. Crafters will help you improve the performance of video advertising campaigns by adding a layer of contextual creativity that will drive better business outcomes.
Silverpush Driving Advancements in Advertising
Overall, Silverpush's debut at the Cannes Lions Festival 2023 marked a significant milestone in the advertising industry with the launch of its groundbreaking tool, Mirrors Generative AI. It showcased Silverpush's commitment to driving advancements in advertising, enhancing precision and efficiency, and delivering better business outcomes for its clients.