7 Reasons Why Marketers are Relying on Contextual Advertising in 2022
| 15 Mar, 2022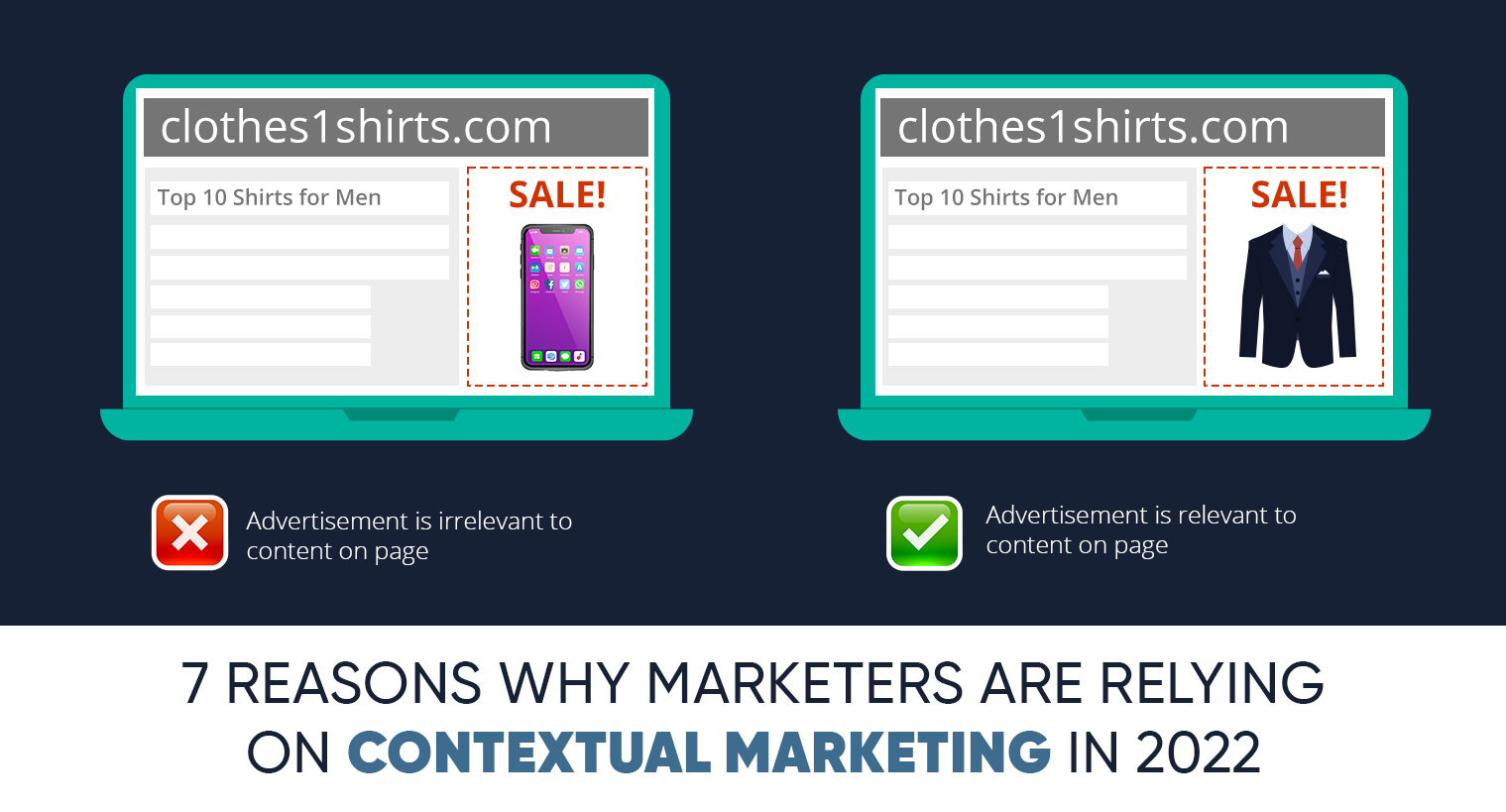 What is Contextual Advertising?
Contextual advertising or contextual targeting is among the best sorts of digital advertising as it has numerous benefits to count on! It includes putting ads on a website in light of its content. The contextual ads provide more information about the products and services to the web client. It's a cost-effective approach for promoting small or start-up firms that are aiming to build higher sales.
For example, if someone is reading an article about cooking tips, there could be advertisements related to cooking products and other kitchen items on the site page. They are shown based on where the client at present is instead of focusing on where the client has been.
Contextual marketing allows marketers to make a strong marketing tactic through contextual targeting, given the relevance of the environment rather than gathering clients' information to create targeted advertisements. Contextual targeting is an outstanding option for brands, ad publishers, and advertisers who can't or decide not to follow an advertising technique based on behavioural targeting.
Importance of Contextual Digital Marketing in Brand Promotion
Context is significant in light of the fact that it provides advertisers with helpful data about the kind of content a user is keen on. Marketers can then target them with an ad that appeals to the client with relevant content. While relevant behavioural information lapses as purchasers explore a dynamic environment, using contextual ads lets advertisers know what clients are keen on at present rather than depending on past behaviour. Advertisers can use this for their potential benefit by conveying highly relevant ads on time. 
Organizations may likewise suffer with steadily changing guidelines and attitudes toward privacy and strategies that utilize cookies to inform them about a client's online behaviour. With this changing attitude, advertisers are mindful that they will be unable to gather data in the manner they once did. For organizations prepared to embrace a cookie less world and an environment where customer needs are continually changing, contextual advertising is a way forward.
Why are Marketers Switching to Contextual Marketing in 2022?
Let's plunge into the advantages of contextual ads that are attracting advertisers to this targeting technique.

Cost-effective
Dissimilar to traditional advertising, contextual targeting is cost-savvy and doesn't require heavy advertisement.  You're only charged for ads that have been clicked, and not for the presentation of advertisements on the site. The ads accompany a customized message, and a choice to shop using the link once.
Gain Targeted Traffic
Nothing increases sales than advertising your products and services to the relevant crowd. Contextual advertising allows you to contact the right crowd, as contextual ads are posted after research on relevant keywords and key phrases. It's one of the successful approaches to promoting products of a particular niche on the web.
It's Assessable
Contextual digital marketing provides the advertiser with an approach of determining whether or not their advertisements are pulling revenue. The advertisements can be shown to individuals in a specific geographical area while picking the right target. It likewise decides the timetable in terms of hours, months, and different parameters of time. Their patterns are a magnificent resource for web advertisers.
No Irritating Pop-ups
The other impressive part of contextual advertising is that customers are not spammed with irritating pop-ups. it blends in pleasantly with the page. Since the substance of the webpage is relevant to the clients, they find the links helpful and appropriate. Consequently, the customers are probably going to be curious about the contextual ads, which might end up with a purchase.
Promotes Sales
There is a high chance that by using contextual advertising, customers who are searching for a specific keyword will click on the link on the website to get more information. Since it relates with what the customer is looking for, there is a high probability that they will purchase it. This will not just boost the sales but also lead to brand exposure. 
Less Ad Aversion
With growing knowledge on data privacy, customers are more mindful and many of them are not in favour of sharing their private information to the websites. So, with contextually targeted ads, customers are less averse, realising that it isn't based on their personal data but related to the website they are on.
Capability to Engage with Clients
It gives an opportunity to converse and draw in with clients. The online audiences find the data on the links and ads very helpful as they are relevant with what they're searching for. They get the information without looking for the products and services effectively. This boosts the image of  your brand through such engagements.
The Future of Contextual Advertising
The field of contextual advertising is relatively new and still evolving. Apart from web pages, context advertising is coordinating with video content. The idea of a unique billboard has been proposed, with a camera that can distinguish the age and gender of the audience and change the ad shown based on the collected information.
How does Contextual Advertising Work?
Contextual advertising works by bridging the gap between website owners and publishers who need to display their banners. Website owners get paid after clients click on an ad displayed on their webpage. The cost per click on promotions varies from a couple of pennies to hundreds of dollars. It relies upon keyword competition, search volume, publisher, ad quality, and the highest bid an advertiser can pay per click.
The ad network shows advertisements given the webpage content. You have to let Google AdSense know about your ad by picking the relevant topic and keywords. Assuming they match the main subject of the publisher's page, they can display this advertisement. Google will likewise analyse page text and design, language, and keywords to choose the most relevant page for promotion. After this, Google AdSense picks a page that is the ideal match for your advertising.
In Summary
There are various methods of advertising and promoting your brand online. But, contextual marketing has attained relevance all through. This sort of advertising allows you to connect with clients and users  in a more meaningful manner and clients  also react positively to relevant content.
Since contextual digital marketing offers various targeting choices, your ads are viewed by the accurate audience, at the accurate time. This captivates users and forms a positive brand image, knowing that the ad is not based on their private data. All these factors directly unleash a positive impact on the sales growth of the brand.
Read also: Why brands need to shift from audience targeting to contextual targeting